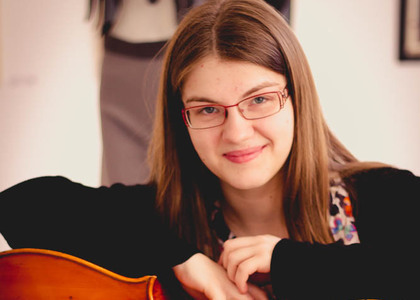 The Tuesday Evening Season - 16th May, 2017
Wednesday, 17 May 2017 , ora 9.00

For the first time at
The Tuesday Evening Season
, cellist Maria Izabela Ghergu managed to gather a large audience, at the Small Hall of the Romanian Athenaeum, becoming too large for those who came to listen to it on 16th May. Maria Izabela Ghergu is still a student at the "Dinu Lipatti" National College of Arts in Bucharest, but she has already won numerous awards at national and international competitions, including the Third Prize at the International Cello Competition in Liezen, Austria. In a kaleidoscope programme that included works by Johann Sebastian Bach, Ludwig van Beethoven, Serghei Rachmaninoff, Gabriel Faur
é
, Karl Davidov, Gaspar Cassado and a Romanian work by Constantin Dimitrescu, Maria Izabela Ghergu succeeded in showing virtuosity, expressiveness and a colourful special timbre, as a sign of the art with which she masters her instrument. The pianist Adela Lörincz accompanied Maria Izabela Ghergu successfully, and they both received enthusiastic applause. After long recalls back onto the stage and after another encore, Maria Izabela Ghergu shared the joy of her first appearance on the stage of the small hall of the Romanian Athenaeum:
"It was a special atmosphere. I was very nervous, but my emotions were positive. I felt the audience supported me and this is how I could overcome my emotions. It was a unique experience! I do not think I've ever had such an experience on stage before. I have felt new feelings tonight. I wanted to make everyone feel my state of tranquillity and trust."
Violinist Marin Cazacu, who has guided her steps for a while, has followed her progress closely:
"Very complex for a young cellist - she is barely18 years old. She is one of Romania's authentic, honest, natural and born talents. Her way of putting her personal imprint on each of the works she performed ... was so natural and well-thought out for everything she expressed through the sounds of the cello. She is a cellist who impresses with the heat and humanity of her artistic expression. We hope to hear her more often and in more and more complex works. She is a very good chamber musician, a very good instrumental performer and a very good teacher. She is, as I would say, an already complex musician who finds as many fields of expression as possible. Her technique is very good, she has a musicality in which the sounds are coloured, painted, an alternation of vibrato-non vibrato which is so beautiful in, for example, the romantic works she performs. But on the other hand, stylistically adapted to Beethoven, she has conquered us both with Bach and the Romanian piece that is so sensitive, that she simply recreated in a way that the great artists rarely do."
Jeanine Costache
Translated by Elena Daniela Radu
MTTLC, the University of Bucharest