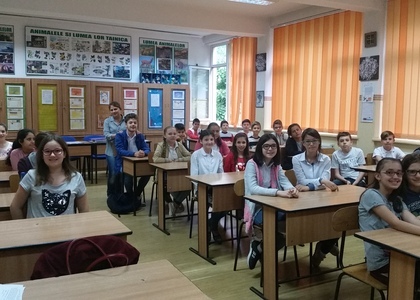 Listen to 5 minutes of classical music - interview at School no. 85 in Bucharest
Wednesday, 31 May 2017 , ora 11.33

A dialogue with
4
th
grade and 7
th
grade children that took part in the "Listen to 5 minutes of classical music" project.
A school from a quiet neighbourhood in Sector 2, in Bucharest, early in the morning at 8 o'clock - School no. 85. The children from the 4th and the 7th grade took part in this year's "Listen to 5 minutes of classical music" project. The adults just listened, but the younglings also did some drawings.
"Classical music is very relaxing. Nowadays, we don't listen to classical music anymore because we don't want to relax that often."
But what do you do when you don't listen to classical music?
"We play, we run around…and then you'dneed some music filled with adrenaline, not classical music."
Still, was this project useful?
"Yes, with school being so stressful and all, it was nice to relax a bit."
Did you draw or did you listen? What did you do?
"I listened."
If this project was never made, do you think it would have been a bad thing or it wouldn't have mattered too much?
"It's good because it helped us relax in some moments at school…we descover new talents like drawing, for example, because this is what the teachers asked us to do."
What grade are you in?
"7th grade."
Does anyone remember any of the composers from this project?
"I really liked the song Für Elise because it has a fast rhythm, it's not as slow as most classical tunes."
But not all classical music is slow.
"Yes but there are some really slow ones and that's why I'm not into it. The fast ones seem more appealing to me."
What composers to you know of?
"We know a few: Robert Schumann, Mozart, Verdi."
"Tchakovskyi. I really liked Swan Lake because it was very mellow."
What grade are you in?
"4th grade."
Did you draw anything?
"Yes."
What did you draw?
"In Arts class…"
Could it be something related to Vivaldi's Summer?
"Yes."
And what did you draw?
"It's a drawing of a forest during summer."
Do you know of another composer?
"Robert Scumann, Beethoven - The 9th Sypmhony…"
Very nice! Do you know what happens in The 9th Symphony, what it's about?
"It's the European Union hymn. It's the Ode to Joy."
Does anybody know any romanian composers?
"George Enescu, Ciprian Porumbescu."
"The explanations were very helpful and some song were very relaxing."
I suppose you also made some drawings, right?
"Yes."
Whatdid you draw?
"I made a drawing of the seaside, in the summer, with a sun that's setting…"
This is what Vivaldi suggested?
"Yes."
Has anyone noticed the personality of Vivaldi's Summer? Is it a regular summer, like we would imagine it, with a vacation, or is it a bit different?
"It's a bit different."
How so?
"It's more dramatic."
These were the students from School no. 85 from Bucharest about the "Listen to 5 minutes of classical music" project, brought into their school by professor Iulia Oprea, whose specialisation is French, but who also chose to involve into such a project dedicated to classical music:
"I did this while thinking of my children from the class that I tutor. And, afterwards, by organising all the events that take place in the school, I told my colleagues, because I have never had this sort of activity with them. As far as I know them, I presumed that they weren't listening to classical music at home and I thought I'd try to get them acquainted with certain values that I believe this musical genre inspires. I think this project was very useful. At a certain point, I had the feeling that they were getting bored and we took some breaks, but I do believe it was useful and interesting for them, and, a lot of times, they would recognize certain musical excerpts that were also part of certain movies, either during the credits or in their soundtracks, and that's when they were paying more attention. "
The project was designed as an aid for music teachers or for teachers that would like to apply it in classes, possibly being part of the teaching materials. Would you recommend other teachers to use it?
"I have recommended it to all the teachers in school. I believe that most of my colleagues have put some effort into applying this project."
Should we continue with it?
"Yes, I do believe so. It's a small step that we've made, we can continue next year as well and maybe we'll have more people that will be interested."
Words by professor Iulia Oprea from School no. 85 in Bucharest, a school among several others in Romania that play classical music thanks to a Radio România Muzical project - "Listen to 5 minutes of classical music."
Cristina Comandașu
Translated by Ruxandra Vorotneac
MTTLC 1ST Year, University of Bucharest