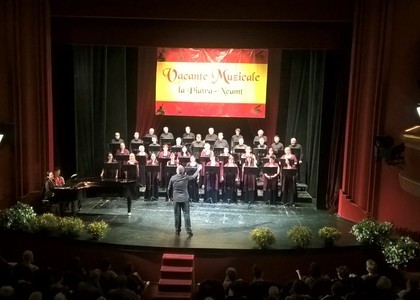 Piatra Neamț is celebrating
Wednesday, 5 July 2017 , ora 9.39

On the third day of the "Musical Vacations" festival, at its 44th edition, two important music genres were celebrated: choral music and traditional music.
The protagonists of the concert that took place at the Tineretului theater were the members of the Radio Academic Choir, conducted by Ciprian Țuțu. Perhaps he was inspired by the USA national day, which happened to be on that same day, by chance, because the repertoire he presented to the audience, that filled up every last seat in the hall, comprised works coming from across the oceans, from traditional African-American spiritual songs, to opuses by George Gershwin, William Dowson or Sabina Păutza, a composer deeply fond of American values.
The concert was highly enjoyed by the public, having a well arranged program, with a lot of diversity, it was spectacular and very well performed. The Radio Academic Choir proved its homogeneity, its pliability, its profound understanding of the essence of this special music, and it charmed the audience through the intelligent play of varied accents and tones, through diction and, most of all, through the collective beauty of their voices.
At the end, the musicians were rewarded by a standing ovation, and the "Carmen Saeculare" Arts and Culture Center in Neamț offered the Radio Academic Choir an excellence diploma and the festival trophy.
In the evening, on the stage that was set in the Tower Square, stepped the members of one of the oldest folk dancing groups in Romania, one that became an universal patrimony, "Junii Sibiului" and the "Cindrelul" music orchestra. Thousands of spectators were fascinated up until almost midnight by the beauty of their costumes and their solo voices, and by the perfect synchronization of the dancers, by the mastery of the musicians, this entire ensemble of professional artists being true keepers of Romanian traditions and customs.
Today, in Piatra Neamț, two more events will be taking place. Starting 7 PM, in the Tineretului Theater Hall, cellist Răzvan Suma and pianist Horia Mihail will be performing opuses by Brahms and Schumann, and later, outdoors, the members of the "Traffic Signs" ensemble will go on stage, conducted by Lucian Moraru, performing works by Vivaldi, Enescu, Satie, Ciprian Porumbescu, Shostakovich, Sting, Ennio Morricone, Piazzolla, Saint Saens and Pablo de Sarasate.
Sebastian Crăciun
Translated by Ruxandra Vorotneac
MTTLC 1st Year University of Bucharest