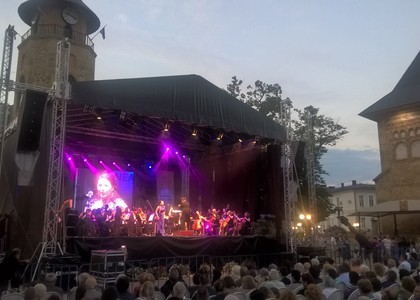 A glorious festival ending
Monday, 10 July 2017 , ora 11.13

The 44th edition of the "Musical Vacations" Festival ended with an evening dedicated to opera music, its protagonist being the soprano, who began her musical training in Piatra Neamț, and who won 11 international competitions, being the lead singer for the National Opera in Athens since 2012: Cellia Costea.
Accompanied by the "Naissus" Youth Symphonic Orchestra from Nis (Serbia), ensemble conducted by Zoran Andric, she performed lyrical pieces by Verdi, Leoncavallo, Dvorak, Lehar, Delibes, Grigoriu. It was an encounter between an important voice, an artist with great experience in the current literal arts, and an orchestra that, at some moments, led us to believe that it is far too young. But all in all, the audience that filled the Tower Square enjoyed the succsesful artistic moments, the beautiful voice, with a special lower tone, and the repertoire with a diversity of styles.
Cellia Costea impressed through the warmth with which she conveyed emotions, through the science of phrasing, through the intelligence of logical interpretation, perfectly combined with the various styles she approached.
The concert ended with an enchanting spectacle provided by the fireworksand with the organizers promising that the next edition of the Festival, its 45th, will be an extremely pleasant surprise.
Until then, I must say that the current edition looked very well, it had important musical events, it had spectacular comebacks at Piatra Neamț, it had inaugurations, such as the one for the long-awaited piano, which was highly important for the local musical society.
From the top list of our preferences, we can not forget the exceptional concert performed by the Radio Academic Choir, the highly refined recital by cellist Răzvan Suma and pianist Horia Mihail, the thrilling concert performed by ArgEn Tango or the more than attractive musical suggestion coming from the Traffic Strings.
All we can do now is confidently wait for next year's edition to, hopefully, praise all the important moments of the festival.
Sebastian Crăciun
Translated by Vorotneac Ruxandra
MTTLC 1ST Year University of Bucharest