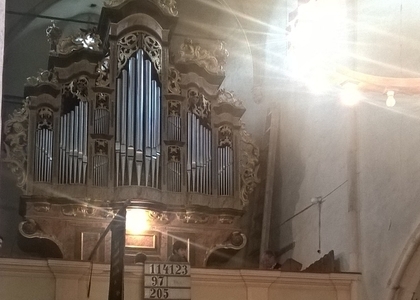 ICon Arts 2017 ...new arts and traditions
Wednesday, 26 July 2017 , ora 11.32

A surprising 15th edition of the Icon Arts Academy and Festival is taking place these days in several Transylvanian villages situated between Sibiu and Mediaș: Biertan, Richiș, Mălâncrav, Alma Vii. It is surprising because it can be said that it is an instance of going back in time, with both its good and its bad parts: a richer human interaction, with more focus put on traditions, but also a break from technology, something we dependent so much on.
The ICon Arts Academy comprises this year of over 60 participants from: Japan, China, Ireland, Finland, Serbia, Germany and Romania, at guitar, piano, flute, clarinet, percussion, theatre, jazz, and chamber music courses. Among the experts we find Horia Mihail, who has accepted to hold a masterclass after 14 years, Reinbert Evers and Costin Soare, and the flute player Ioana Turcu and the jazz singer Ana Cristina Leonte.
The Festival's programme for this year is much more diverse. All the events of yesterday have taken place in Richiș, the 700-year old village which, after many of the Saxon families have fled, is now populated by Romanians, Roma, a few Saxon families, and dozens of German, French, Dutch, Italian, Swiss, Lithuanian, and American people, thus becoming the village with the most nationalities in Romania. Last night we witnessed a fascinating presentation made by a journeyman, a young man settled in Romania, who has learned a dying trade, who has managed to keep the wheelwright tradition of the place alive, and who now reconditions and restores vintage coaches and carriages. Then, in the old Richiș fortified church, we watched a heroic recital by Remus Henning, who has tried, and sometimes even succeeded, to tame the old and out of tune local organ. The evening ended in a gorgeous and delicious gastronomic exposition with local products.
A presentation concert for the works that have been accepted in the ICon Arts Composer in Residence programme, whose mentor this year has been Cristian Lolea, will take place today in Sibiu, at the Thalia Hall of the Philharmonic. Young composers from Serbia, Ireland, Finland, Mexico, and Romania will get the opportunity to have their works played by Ireland's National Television & Radio Broadcasters Quartet - ConTempo, and by the instrumental soloist of the National Radio Orchestra, the percussionist Alexandru Anastasiu.
Then, in the following days, ICon Arts will propose new cultural challenges, through which it will attempt to show that a coexistence of the old and the new is possible, of the arts of the 21st century and the well-anchored and kept traditions of the place.
Sebastian Crăciun
Translated by Adriana-Cătălina Grigore,
MTTLC 1st year, University of Bucharest