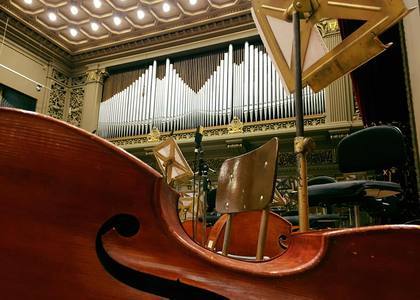 The Magical End of Summer
Thursday, 24 August 2017 , ora 11.07

After livening ourselves every Wednesday evening for the past few months, on the 23rd of August, the "Magical Summer" International Festival has come to an end. And it was a more than spectacular finale, just as magnificent as the entire festival. The performing guests were the artists from the National Youth Orchestra from the Netherlands.
Marin Cazacu, our host for the evening, has come to talk to us about this ensemble:
Here, on the stage of the Romanian Athenaeum, during summer, we have the future of Romania playing for us. Ladies and gentlemen, this evening, we gladly welcome the future of Europe, because the Youth Orchestra from the Netherlands is not only comprised of dutch musicians, it also homes 19 other nationalities, and, just as we know what our future Europe should be like, together we can build far more than just trying it by ourselves.
Conducting the orchestra was British conductor Mark Wigglesworth, who suggested fine constructions, appropriate for all the interpreted opuses. The evening began with excerpts from Richard Wagner's Tannhauser, a moment where we could see the entire wind section of this orchestra shine, while interpreting all their dedicated parts of the overture with ease and naturalness.
It goes without saying that the central piece of the evening was brought by the Concerto for violin and orchestra, by Erich Wolfgang Korngold. The composer who imposed Hollywood's music sound for many generations, has to offer, through this opus, a few pages with the consistency of a concert work, but with the coloring of a movie. Moreover, the theme material is taken from his films, especially from 1937's The Prince and the Pauper. The charismatic interpretation of violinist Alexander Sitkovetsky and the National Youth Orchestra from the Netherlands has also had an enormous impact.
The second half of the evening was dedicated to the music of Igor Stravisnky's Petrushka ballet, the 1911 version, which the musician wrote in Paris. Yet another colorful and energetic moment, that welcomed the end of the Festival in a more than splendid way. We highly await to se what the edition of 2018 has in store for us, especially when there are promises of bringing 9 youth orchestras on the stage of the Romanian Athenaeum.
Radu Mihalache
Translated by Ruxandra Vorotneac
MTTLC 1ST Year University of Bucharest