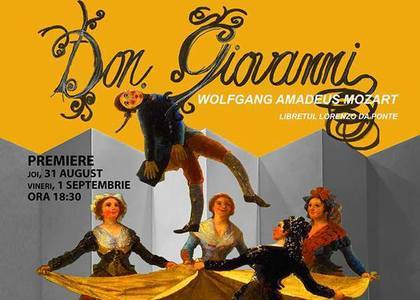 Press conference at the Bucharest National Opera
Thursday, 31 August 2017 , ora 8.43

The opera "Don Giovanni", composed by Mozart, has already had four preview shows for its latest interpretation, signed Andrei Șerban. The team with which he collaborated in creating this production, was present at the press conference that was held last evening, in the lobby of the National Opera in Bucharest. The interim director of the Bucharest Opera, Beatrice Rancea, started her speech by saying that such an assembly wouldn't have been possible without the financial support of the City Hall of Sector 5 and of mayor Daniel Florea, who was also present at the press and audience meeting.
Surely, the protagonist of the conference was director Andrei Șerban, "Don Giovanni" being his first assembly, an opera that he chose to perform in Romania. Entitled "Mozart and Don Giovanni", Andrei Șerban read an excerpt from the foreword that will stand as an introduction on the hall booklet of the new spectacle.
He then listed the financial hardships that he dealt with, he thanked the team with which he worked, the performers, mostly young people, very open to his suggestions as a director and as an actor to be credible characters, that are taking part in an assembly brought all the way to the 21st century.
Thus, as the director stated, a younger audience will also be brought in larger numbers to see the performance. Director Andrei Șerban also suggested that we should attend both premiers, on the 31st of August and on the 1st of September, to witness two separate distributions, two interpreters of Don Giovanni, Adrian Mărcan and Csaba Sandor, two very different, even opposite characters, who might leave the audience with two different messages at the end of each performance.
Andrei Șerban assured us that his vision as a director sets the audience's imagination free, they can outline their own perception of the notion of this opera, that was written in the 18th century, and then transposed into the 21st century. The director is also certain that future generations will find other means to express the opera "Don Giovanni", in relation to the contemporary audience.
The first performance takes place tonight at 6:30, conducted by Ciprian Teodorașcu.
Jeanine Costache
Translated by Ruxandra Vorotneac
MTTLC 1ST Year University of Bucharest