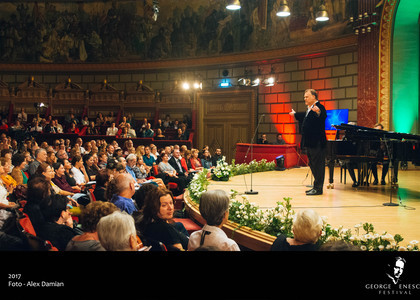 From Traditional Music to Vodevil and Fireworks
Wednesday, 6 September 2017 , ora 9.40

The Fourth Day of the Festival has left us with amazing surprises. The first meeting was with Sir Bryn Terfel at the Romanian Athenaeum. What seemed to be a mere consolation for the absence of Lang Lang turned out to be one of the most fuzzy recitals we have ever attended. The Welsh Baritone brought us music from his native places, songs from the British Isles and lieder. All of them were related to a personal story:
"I left Wales and I went to a school in London to sing, to learn how to sing. There, the farmer's son was in college, trying to learn everything he could about opera, lied, oratory ... that was a new world to me."

The last pieces of the recital got the look of real vodevil music (although performed at the highest level). Sir Bryn, skillfully accompanied by pianist Malcom Martineau, interpreted every moment, interacted with the audience, offered a complete show, from the most romantic lieder to the encore of the Fiddler on the Roof. Among the spectators, I found the actor and singer Tudor Chirilă, who told us: "Falstaff, Sir Toby, Sir Andrew and John Kennedy Toole's Ignatius in one character. Absolutely sensational! Sensational! A Perfect Artist! We had an absolutely sensational recital, an extraordinary voice, doubled by an impressive acting talent, which means that, in fact, the fatal combination is ultimately that between theatre and music. "
Of course, the evening would not have been complete without the concert at the Palace Hall. Again, I found there the artists who are the instrumentalists of the National Orchestra of Russia under the baton of the conductor Horia Andreescu. The programme of the first part was a bold one, with the Estancia suite by Ginastera, the Aria and Scherzino by Enescu and the Violin Concerto by Sir James MacMillan, performed for the first time in Romania. The soloist was the reputed violinist Vadim Repim, who skillfully brought to life the narrative, sometimes quite intricately created music by the British composer, who is also visiting Romania these days. From moments of emotional lyricism to scenes of terrible tension, the work was the focus of the evening, a fireworks performance, if you want.
The ending was reserved to the Fifth Symphony by Tchaikovsky, a suitable ending for a wonderful evening!
Radu Mihalache
Translated by Elena Daniela Radu
MTTLC, the University of Bucharest