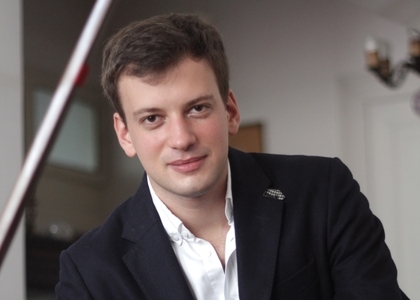 Pianist Mihai Ritivoiu – performing on the stages of Radio Hall
Friday, 13 October 2017 , ora 8.58

Pianist Mihai Ritivoiu, winner of the "Zilele Lipatti" National Piano Contest in 2010 and award winner of the 2011 "George Enescu" International Contest, performed on Wednesday, the 4th of October 2017, his first solo recital in the ambience of Radio Hall, enchanting the audience in the first part of the program with opuses by Ludwig Van Beethoven, Franz Schubert and Felix Mendelssohn.
Mihai Ritivoiu graduated last year from his MA studies at Guildhall School of Music and Drama in London, after he had finished his studies in Bucharest, in 2012, guided by pianist Viniciu Moroianu, who was also a member of the audience:
"It's always a pleasure to hear him play again and I'm glad that Radiodifuziunea found an opening to schedule him, not long after his brilliant participation at the Enescu Festival. Today, we're witnessing a performance with a beautiful, large scale program, one that is so public friendly, so to say, but also possessing substance. Mihai Ritivoiu is a musician of high intellectual and spiritual quality, who is beautifully developing, always gaining maturity in both sensibly, and intelligently elaborating the musical text. I'm glad to see more and more refinement within him, sonorous aspects, a rock solid logical construction, contrasting musical characters. His constantly ascending development makes him turn into a complete artist more and more, one that self poses professional problems of high acuity, in regards with high quality European performance."
The second half of the evening was dedicated to Franz Liszt's Sonata in B minor, an extremely complex work, that can also be found on the musician's debut album, that was launched last month within the "George Enescu" International Festival. Showing the audience that he has a profound understanding and knowledge of the sonata, the pianist offered them a beautifully arranged version, coloured through youthful vigor and defined by clear and flowing phrasing, which enchanted those present at the performance until the end.
Here's what Mihai Ritivoiu declared after his performance:
"I felt great. I have numerous memories and special feelings that tie me to Radio Hall. Both the finals for the "Enescu" Festival and also the one for the "Lipatti" Contest, from the year before that, took place on this very stage, but I have never had a solo performance before, which truly is the challenge of a pianist. So, tonight, I felt great on the stages of Radio Hall, on this lovely piano and, what's more, the public felt very kind and open."
Feature report by Ana Diaconu
Translated by Ruxandra Vorotneac
MTTLC 2nd Year University of Bucharest