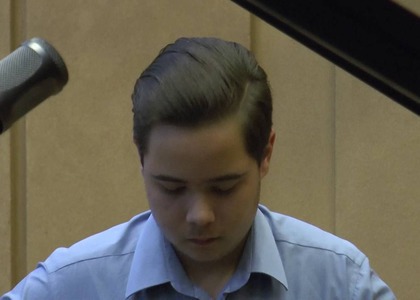 Alexandru Manolache in recital at 'Tuesday Evening Performance'
Monday, 13 November 2017 , ora 9.58

The most recent event programmed for the "Tuesday Evening Performance" took place a few days ago, on the 31st of October, and had young pianist Alexandru Manolache in the spotlight. It was his debut recital at the Romanian Athenaeum and, undoubtedly, the characteristic jitters of such an important event could be felt throughout the musician's performance. Nevertheless, he succeeded in completing an extremely difficult repertoire, he covered all eras of style, from Bach to contemporary composers. From the latter group, he soulfully interpreted one of the works of composer Laura Manolache, his own mother:
Alexandru Manolache is an 11th grade student at the "George Enescu" National Music College, studying piano with professor Mihaela Zamfirescu:
"I really enjoyed it. I can almost say that I discovered different, unknown sides of him, new ways in which he reacts under the spell of this special creative feeling, that charmed me completely."
Pianist Viorica Rădoi, accompanying professor at the National Music University of Bucharest, also declared herself content of Tuesday evening's recital:
"He is extremely talented, he shows a surprising maturity while interpreting some complex works, and he is very intelligent. I was deeply impressed, especially when he performed Mozart's Sonata, Liszt or Tchaikovsky."
Here is what Alexandru Manolache said after his performance:
"It was a highly pleasant experience. Being my first recital, I hope I managed to show what I am capable of, and, hopefully, this will not be my last one."
Where would you like to study?
"I think that, at the time, Germany is considered to be the ideal place to study and that's where I would like to go."
Feature report by Ana Diaconu
Translated by Ruxandra Vorotneac,
MTTLC 2ND Year, University of Bucharest