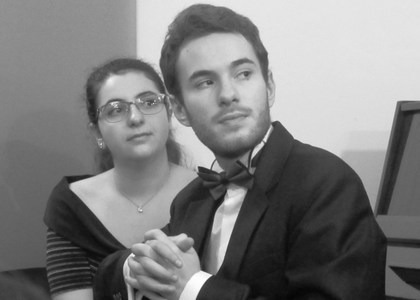 'The Hungarian Dances' of the Tuesday Evening Programme
Tuesday, 28 November 2017 , ora 10.59

The Tuesday evening programme is a good opportunity to discover young musicians, to see their level of training and to see what new musical ideas they propose. Last night we had the opportunity to listen to Ana Bădică and Marius Boldea in the Small Hall of the Romanian Atheneum, a congenial piano duo that played The Hungarian Dances by Johannes Brahms. It was an interesting experience, especially since I had never heard all 21 dances in a row, and moreover, we rarely have the opportunity to listen to them in the original formula - that of the piano àquatre mains. The artists enthusiastically tackled the demanding program (we have about 50 minutes of music) and offered the audience a beautiful evening. There were, of course, small problems, but I think they are inherent, especially when we talk about a debut. What I particularly like is that they have divided their tracks in an interesting way so that they had exchanged seats from time to time. At the end we talked a bit with Ana Bădică and Marius Boldea and this is what they had to say:

Ana Bădică: It was a great experience, which I would gladly repeat at any time. We liked the program, and the audience, which was very enthusiastic. We felt good on the stage.
Marius Boldea: It was our first appearance at the Romanian Atheneum, which, hopefully, will give us new perspectives from now on with this repertoire as well, the Hungarian Dances by Brahms, which is very rarely interpreted cyclically, and, of course, with others. We would also like to participate in the Brahms International Competition and prepare some more works.

Where did you get the idea of this repertoire?
Ana Bădică: We have been a duo for a few years and the idea came from the fact that Brahms is our favorite composer.
Marius Boldea: Two years ago, we participated in the first edition of the international Suzana Soronig competition. We had to choose a romantic piece in the first stage of the contest. We chose one of the Hungarian Dances by Brahms, who was our favourite, no.4, and from there we kept going, kept going until we realised we needed to perform the entire cycle.
Feature report by Radu Mihalache
Translated by Ivan Alexandra-Maria,
MTTLC 2nd Year, University of Bucharest