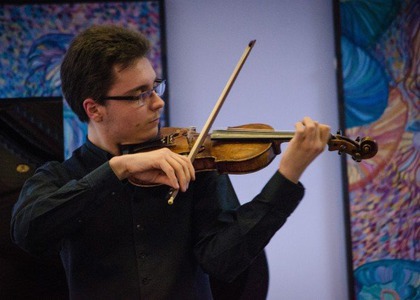 The violinist Ștefan Șimonca-Oprița within Tuesday Evening Season
Tuesday, 5 December 2017 , ora 14.36

I realize that I can always discover interesting things within Tuesday Evening Season at the Athenaeum. For instance, last night I was able to listen to the young violinist Ștefan Șimonca-Oprița, laureate of the competition Remember Enescu this year. He is a musician that, although has only 16 years, is showing a complex and deep musical thought. Furthermore, among the musicians under whose guidance he has trained is also David Grimal.
For the performance at the Athenaeum he has chosen a programme that included opposites by Bach, Beethoven and Enescu. He was carefully seconded and with great accuracy supported by the pianist Raluca Ouatu, who made him feel safe at any time and offered him a solid basis, on which he could play out. All night he was in a permanent crescendo, from a Partita sang slightly shy, up to a firmly approached Enescu. Here's what Ștefan Șimonca-Oprița told me at the end:
Always a performance-concert is an experience, that remains somehow in the memory of any soloist. For me, it's been always something to sing in places in which people whom I appreciate most musically have performed there. The way in which you prepare your programme it's going to make all the difference.
In which works do you feel most at home?
At home, I always felt with Enescu.
Coverage made by Radu Mihalache
Translated by Elisabeta Motoi,
MTTLC 2ND YEAR, UNIVERSITY OF BUCHAREST