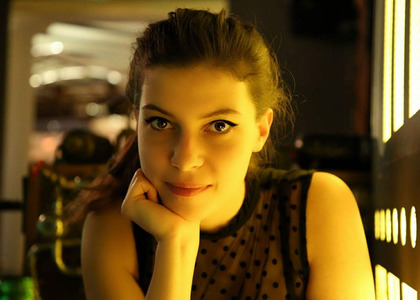 The Tuesday Evening Session on December the 5th, 2017
Friday, 8 December 2017 , ora 13.54

Making her debut at the Tuesday Soiree Season, the pianist Fabiola Ioniță succeeded in bringing a large audience to the Small Hall of the Romanian Athenaeum.
The young musician chose works from Beethoven, Brahms and Prokofiev, a complex artistic program brought to an end with expressiveness and maturity. She received enthusiastic applauses and after long curtain calls and an encore, Fabiola Ioniță shared with us the joy of her first appearance at Tuesday's Soirees: "I had a diverse repertoire starting with Beethoven, Brahms and moving on to Prokofiev, a large scale repertoire with different moods and feelings. I felt amazing on the stage of the Small Hall of the Romanian Athenaeum. I was excited to have such a heart-warming audience. I felt their appreciation after every work I performed".
The fellow of the Princess Margareta of Romania Foundation was supported by her colleagues from the National Music University of Bucharest. Pianist Cătălin Răducanu, an older and appreciated acquaintance of the Tuesday's Soirees, was also in the audience:
"Such an impressive performance! I've known Fabiola for several years now and I can say she has made significant progress. She has an extraordinary inner power and she showed a titanic focus for such a tremendous programme. It seemed to me that she adapted extremely well to all the styles he interpreted and we hope to hear many other beautiful things about her in the future."
The students recommended by the pianist Viniciu Moroianu always come with ambitious and thoroughly prepared programmes, which the maestro pursues very carefully: "A demanding programme - three masterpieces with both physical and intellectual involvement. It was an exceptional night that developed in a crescendo, from Beethoven's Sonata through Brahms' compositions to a celebration of the piano repertoire, which is Prokofiev's monumental and courageous Sonata No. 6. Her performance is beautiful in terms of expressiveness, liveliness and stage awareness and I believe that Prokofiev's Sonata in particular highlighted these promising qualities in her. She is a very dedicated young musician and you could see that tonight. We enjoyed it thoroughly."
Coverage by Jeanine Costache
Translated by Georgiana Nuțu,
MTTLC, Anul I, Universitatea București