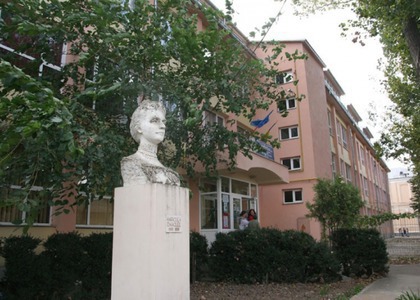 'Listen to 5 Minutes of Classical Music' at Arts Highschool Hariclea Darclee of Brăila
Monday, 11 December 2017 , ora 12.32

A material recorded by the reporter Radio Romania Actualități of Brăila, at Arts Highschool Hariclea Darclee.
Do you like classical music?
Yes, I love it very much. I consider that the classical music is a source of inspiration especially for us, the artists, and it helps us to enter in a certain state of meditation and to express our feelings much better.
What's your name?
Benescu Iulia.
We met before. You are already famous. You paint beautifully. How does the classical music help you?
First, I believe that it stimulates our creativity, our imagination. I think it is a moment of silence and, personally, I prefer this music to the detriment of the music that is being promoted today everywhere.
Tudor Andreea.
Tell me if you've ever listened to classical music with headphones on your ears?
I usually listen to music of any kind in my headphones because I like to hear it very loud; it calms me, inspires me, especially when I paint or draw because I have a life ... a little agitated.
What do you think of this project?
It is very beautiful. It's good for us at school, even at home.
So, it was a good idea?
Yes, a very good one. We would like that this project will go on and also, we would like to win.
You are a little disappointed that you have not won so far.
Yes, we are, a little.
No problem. You must persevere! What's your name?
Gherișan Andreea.
I happen to know you, I know you're a rocker. Tell me if you like classical music, especially since I see you are part of this project.
I like classical music… they are based on orchestras with instruments that sound very nice to the ear of those who listen to modern music. For example, what I like most from an orchestra is violin or cello, and if there is a flute, it's perfect.
Do you also listen at home classical music?
Yes, I'm listening to a few composers. I remember since I was a child, that my father had some tapes with Beethoven and he played it to me every day, from morning to evening.
Tell me, What's your name!
Alexiu Andra.
You are from the Arts Highschool, you are part of this project. How was the project for you?
Very beneficial for each of us because it brings a drop of colour to every drawing we create and helps us to do better and better works through the harmony offered by the teacher with every song she plays for us ...
And it's a state of emotion, right?
Yes, it is.
Do you relax in this way?
Yes, it relaxes us. We, nervous from the breaks, because of different problems…
Suddenly, you say stop!
Yes. It's the time for us in which we relax, we are calm, and we do even works of competitions that everybody deserves to see.
Gina Bahor - reporter Radio România Actualități of Brăila county.
Translated by Elisabeta Motoi,
MTTLC 2nd year, University of Bucharest