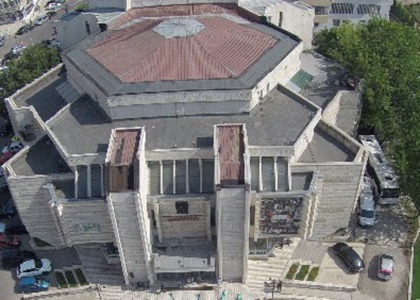 'Listen to five minutes of Classical Music' at Paradise Secondary School, in Iasi
Monday, 11 December 2017 , ora 12.47

The National Programme Listen to five minutes of Classical Music is also running at Paradise Secondary School in Iași, where it was greeted with huge excitement by both teachers and pupils, all the more that the Radio Romania Musical project comes to support the very mission undertaken by Radio Paradise.
- We find classical music relaxing, and I personally enjoy listening to it a lot.
Have you listened to classical music at home too, or just at school?
I have listened to classical music at home, on the radio, and at school too.
Can you play any musical instruments?
- I play the piano and I think it's a wonderful instrument.
- I play the piano as well. I play classical music and I also play in a band.
- I play the electric guitar and all kinds of guitars.
I would also like to ask you: have you ever been to any concert? Have you ever listened to the Philharmonic Orchestra, for example?
- We went to The Barber of Seville with our school.
- It was very nice and, also, an interesting experience.
- It's a project that can help people enrich their general knowledge of music and an opportunity to listen to a different kind of music besides modern music and pop and rock and jazz. It gives us a chance to broaden our musical culture.
Were you a part of this project last year, too?
We had a sort of Radio Paradise in our school and they broadcasted a number of tunes, and then they asked us questions about them.
And how did you manage? Did you give the right answers?
Yes, we answered all questions correctly.
Mrs. Ramona Cojocaru, as a teacher, would you please tell us if the Radio Romania Musical project is helpful for your music lessons?
Taking up this project made me very happy; having been a teacher for such a long time, I've always had a problem with finding detailed research materials for my classes. Even though I used various sources of information: dictionaries, the Internet, and any available books on music history, still, I had never come close to the kind of synthesis that the auditions Listen to five minutes of Classical Music provide. I didn't always succeed in producing the best didactic material for my classes and that's why I was so pleased when these auditions came up. I myself did learn a lot from them and children enjoy the audition-lessons very much. So, this project is most welcome as a pedagogical instrument. It's a very useful tool because all we have is a programme of auditions which contains all those hits that everyone knows, such as Prelude in C Major by Johann Sebastian Bach, and so on, many hit - auditions, but there's another side of music that I would like my students to become familiar with and it was this project that helped them get to know music at a rather deep level than that which is usually offered by media.
Given that you teach your students how to play various instruments, are music classes in your school different from other music classes?
That's why we have elective courses. I use the curriculum issued by the Minister for my lessons, which allows me to accomplish two important goals: on the one hand, I shape my students' musical skills, their ability to read scores, to do rhythmical reading by applying the theoretical notions that I teach, and on the other hand, I develop their musical culture. Last year we had the auditions on our school's radio station and we organized a contest and all the participants were able to recognize all the tunes and I was so proud of them!
Report by Mona Vâlceanu – Radio Iași
Translated by Daniela Preda,
MTTLC 1st year University of Bucharest