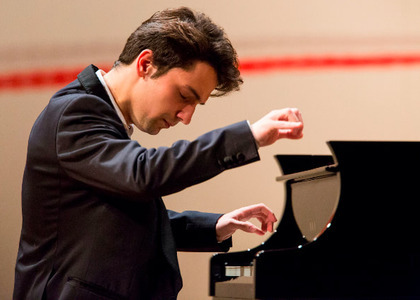 The Tuesday evening programme – December 12th 2017
Friday, 15 December 2017 , ora 11.56

When we pronounce the name of the pianist Cristian Sandrin we can talk about being 'sold out' and not because of the invitations, but because of the sold tickets. Attracting audiences to the concert hall is his merit. In addition to being a name affirmed in the musical landscape, a young man who has confirmed his piano talent through a major track record, Cristian Sandrin always comes up with thematic, interesting and unusual programs, as was the previous one, which included works by: Haydn, Beethoven, Scarlatti, Chopin and Ravel. A musical approach about which the young pianist talked with the same pleasure that transpired when singing:
""The Tempest" by Beethoven is inspired by Shakespeare's play. The first scene takes place on a ship, during a tempest... and following that, I said I should sing Chopin's "Baracolle" and afterwards "Boat on the Ocean" by Ravel. The program was divided into two. The first part was a very young and joking Haydn with four Scarlatti sonatas, very joking as well, and then we went to a more serious program. I wanted to balance them out. Emotional , stylistic diversity- that's what I wanted to convey."
In his rich concert touring history, which includes prestigious scenes such as the Paris Cortot Hall, St-Martin-in-the-Fields, Queen Elisabeth Hall in London, Manuel de Falla Hall in Madrid, Cristian Sandrin includes in every year a recital in the Small Hall of the Romanian Atheneum. He arrived on December 12 during the Tuesday programme, as always, with a well-rounded musical thinking combined with an expressive and tumultuous tone, sensitive and with great joy to play. As in the other programmes. Like in his other appearances, Cristian Sandrin sparked the ovations of the music lovers, his performance being expected with much interest by both music lovers and reporters. Last night we spotted the critic Dumitru Avakian in the audience:
"It is a joy to listen to Cristian Sandrin, who is in a very exciting phase, totally immersive in his professional growth. He is interesting, educated, very intelligent and sensitive. In my opinion, the great achievements of the recital were on the one hand the six sonatas of Scarlatti, first of all a timbral imagination, and on the other hand an acuity regarding delving into the depths of this music in which the stylistic data and its personality are present in a manner that already defines a strengthened personality."
Feature report by Jeanine Costache
Translated by Ivan Alexandra-Maria,
2nd year MTTLC, University of Bucharest