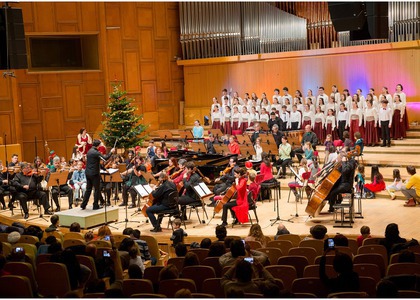 Christmas Concert for children at the Radio Hall (Sala Radio)
Thursday, 21 December 2017 , ora 10.31

On December 17, Radio Romania offered children a present in the form of a Christmas Concert. There was no entry fee, so there were many children who came to meet Santa - who brought presents - and his elves. The little ones also took part in a lesson-concert that the Radio Chamber Orchestra and conductor Cristian Oroșanuoffered to the young music lovers.
Santa spoke to both children and adults.
I admit, for a moment I myself felt like a child and imagined how Santa would slide down the house chimney to leave the long awaited presents.
Did you like Santa Claus?
A lot! He was beautiful and had this white beard! And a very long coat!
Did you like Santa?
A lot! I made a picture with him as well!
Of course… after such an entry by Santa Claus, the stage was stormed by none other than the Radio Children's Choir and their conductor, Voicu Popescu. They performed carols and traditional Christmas songs from various parts of the world.
As the Radio Hall was full of young music lovers, the time was perfect for a lesson-concert by Cristian Oroșanuand the Radio Chamber Orchestra with a very well chosen work - The Carnival of the Animals by Camille Saint-SaŽns.
"Let's try to imitate the animals that Saint-SaŽns put on the score as best we can! The next piece is called Hens and Roosters. Do you want to hear how Saint-SaŽns wrote the hens in the orchestra?"
The little ones met the animals imagined by the French composer under the explanations of conductor Cristian Oroșanu.
"It's true that he also wrote a rooster."
The young music lovers were delighted:
"I loved it how they played about the animals, all that music inspired by the animals…"
"At the concert I liked the orchestra the most. It was beautiful. Especially the people playing the violin. And I thought the pianists were very good and… I loved it."
The concert ended in a very festive atmosphere, with a bunch of carols performed by the Children's Choir and the Radio Chamber Orchestra conducted by Cristian Oroșanu.
Coverage by Jeanine Costache
Translated by George Arion,
MTTLC I, Universitatea București