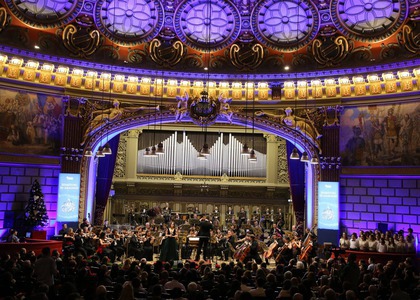 Royal Camerata - Christmas Concert at the Romanian Athenaeum
Wednesday, 27 December 2017 , ora 9.15

On the 20th of December 2017, the Royal Camerata gave an extraordinary Christmas concert to the audience present in the Great Hall of the Romanian Athenaeum, featuring works by composers Leroy Anderson, Andrei Tudor, Johannes Brahms and Sabin Pautza, works specially chosen to capture the emotion and the energy of the winter holidays. The concert also brought before the public of Bucharest a new collaboration between the Royal Camerata and beloved jazz singer, Irina Sârbu. The Radio Children's Choir also went on the stage, led by Master Voicu Popescu.
Under the baton of conductor Constantin Grigore, the evening opened with a moment dedicated to the memory of King Michael I of Romania. The Royal Camerata interpreted Sad Waltz by Jean Sibelius. After that first moment that was dedicated to King Michael I of Romania, we changed the tone and got into the Christmas holiday spirit through a magical journey that symbolised goodness, innocence and sincerity. The evening was designed as a concert-show by Conductor Constantin Grigore himself:
"There was something unique about Irina Sârbu's presence with the Royal Camerata. Both I and the Royal Camerata wish you a merry Christmas, one that brings you inner peace, and God willing, when we meet again in 2018, we'll be better, healthier and more beautiful!"
Irina Sârbu was unquestionably the star of the night, who electrified the entire hall with her charismatic presence and with spectacular demonstrations of virtuosity and improvisation.
"It's a new experience, a great joy, a way for me to rediscover songs that I usually sing in a quartet or in a trio. These Christmas carols are very beautiful, very warm and, with this orchestral arrangement, they sound very nice and magic. So, I greatly enjoyed playing alongside the Camerata. I wish you happy holidays, may you be healthy, have inner peace, and spend as much time with your family as possible! "
Report by Jeanine Costache
Translated by Doris Peia,
MTTLC, Anul I