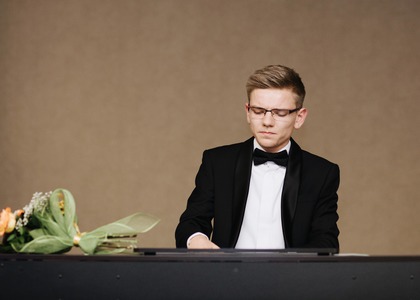 Tuesday evening season - January 9, 2018
Thursday, 11 January 2018 , ora 12.36

Sonata in F minor, "Appassionata" by Ludwig van Beethoven was the first work of a program that included works by Frederic Chopin, George Enescu and Maurice Ravel. It was presented on January 9 by pianist Cadmiel Boțac on Tuesday evening sessions. The pianist from Cluj is twenty years old. He is a student of the "Gheorghe Dima" Music Academy and laureate of the "Lipatti Days" Contest in 2010. The passion for singing was the impression the young musician left to the audience who filled the Little Hall of the Romanian Athenaeum. Cadmiel Boțac also demonstrated a well-defined thinking and a very good technique of singing, appreciated by those in the hall where I found his former colleague from Cluj, cellist Cornelius Zirbo:
"Cadmiel and I have been good friends while studying together at high school in Cluj and I came, of course, and listened to him with pleasure. He is such a talented, so hard-working and a very good-looking pianist. It was such a great performance!"
A passionate musician, Cadmiel Boțac spoke with excitement about his first appearance on Tuesday Season:
"I didn't choose randomly this program, I wanted to be in the memory of Chifor Monica; Chifor Monica was my first teacher who unfortunately died this summer... and her favorite composers were Beethoven, Chopin and Enescu. And in her memory I wanted to choose this repertoire. And, of course, there are the songs that I'm studying now, songs that I like and that are a challenge, but always a pleasure to play. "
A pleasant stage presence and a very pleasant musical surprise - Cadmiel Boțac confirms his piano talent and promises to return to Tuesday's soirees in March, an opportunity for the audience who wants to hear him again.
Feature report by Jeanine Costache
Translated by Costache Alexandra Iuliana,
MTTLC 1st year University of Bucharest