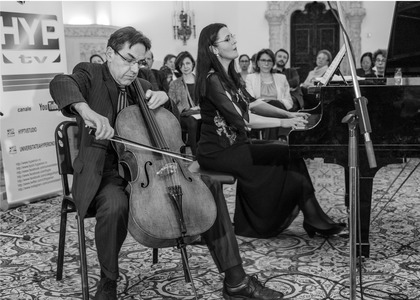 Musical bridges – bridges between the past and present, bridges between cultures, concert event hosted by Cotroceni National Museum
Tuesday, 23 January 2018 , ora 15.28

In the warm and hospitable ambiance of the Cerchez Salon at the Cotroceni National Museum or "at a parallel Cotroceni", the way one of the guests present at the event called it, the Musical bridges - bridges between the past and present, bridges between cultures concert, organized by Radio Romania Music, the Austrian Cultural Forum and Cotroceni National Museum, took place on January 17, 2018, in front of a large and enthusiastic audience.
Marked by the Romanian Centenary Celebration and the National Culture Day, the evening's pièce de résistance was a Romanian premiere. Piano and cello Sonata No.1, Op.22 by Constantin Silvestri, the score of which has been considered lost, was rediscovered by Raluca Știrbăț in 2017 in Vienna and brought by her in front of the audience in Bucharest, alongside of whom, we had the honor of listening to the cellist of Austrian birth, Rudolf Leopold. The clear dedication and passion the two musicians showed through their entire beautiful program not only for Silvestri, but also for Brahms, Enescu, Berg and Bartok compositions, certainly impressed the audience. I met in the salon, among others, the architect Șerban Sturdza, who's been a long-time friend of Raluca Știrbăț, together with whom he has engaged into the project of saving the house of George Enescu:

"I believe an exceptional thing has happened today and it would be extraordinary that, as Mrs. Știrbățsaid herself, these pieces were played more often in Romania and that the biography of Silvestri were to be known better and as to her activity as both a pianist and a woman of culture, what she discovers or writes between concerts, I reckon stands as an increasingly valuable benchmark for the Romanian culture."

Her Excellency Mrs. Isabel Rauscher, Republic of Austria Ambassador to Romania:

"One can never have enough bridges to unite people or bring together more musical traditions, like in this case. A wonderful way to start the new year!"

Her Excellency Mrs. Michèle Ramis, France Amassador to Romania:

"It's been extraordinary. I listened to a pianist of an exceptional virtuosity, who played not only Brahms, but also Bela Bartok. She's a great pianist, she conveys so much passion, dedication and concentration."

Liliana Staicu, manager at Radio Romania Music, told us about how important it is for a radio station that is dedicated to classical music to engage into the actual cultural life and to create a true relationship with its listeners:

"For a classical music radio station, the connection with its listeners, with the melomaniac audience and the moments when we manage to organize such events are as equally important, because what happened here tonight, I consider it to be a true event, all the more so as it brought in front of the audience a creation, which, lo and behold, has not been heard in Bucharest for decades. I think it's extremely important to create and mantain a connection with the listening public, with those who not only spend their time every day together with us on the radio waves, but who also feel the need to be around these great musicians in live concerts."

The last thoughts belonged to the pianist Raluca Știrbăț:

"As the event just ended, I personally believe this has been a very successful evening. Us, the musicians, are very satisified. It's been a successful evening, a very emotional one ­- at least for me- because we baptised, so to say, the Sonata by Silvestri in Bucharest and I'm happy we had an extremely warm, large and receptive audience. I wish to thank the hosts, the Cotroceni Museum staff - it's an amazing location and extremely inspiring for any musician, the Austrian Cultural Forum, which in a very short amount of time mustered the efforts and supported us admirably and last but not least, to Radio Romania Music and Mrs. Cristina Comandașu, who not only with precision, but with great enthusiasm as well, put together this entire event that we believe, rejoiced the audience on one hand and played tribute to Constantin Silvestri on the other hand, because after all, he was the one celebrated tonight."
Coverege done by Ana Diaconu
Translated by Nițu Ema-Gabriela,
MTTLC II, Facultatea de Limbi și Literaturi Străine, Universitatea București