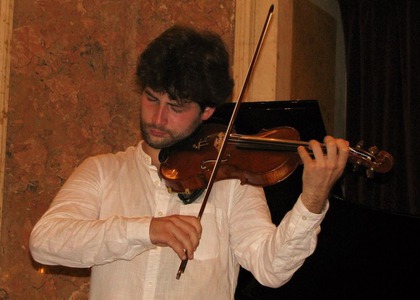 The Tuesday evening programme - 16th of January 2018
Thursday, 25 January 2018 , ora 14.20

A graduate of the University of Music in Brașov and with a master's degree from theUniversity of Music in Graaz, Austria, violinist Valentin Șerban was for the first time at the Tuesday evening programme. The young violinist put a lot of passion in his singing, displaying self-mastery and enthusiasm, in a program that included pieces by Johannes Brahms, Claude Debussy, Franz Waxman, Robert Schumann and Maurice Ravel:

"I did not have it as a goal to get to this program; in fact, the first purpose was to make it fit into the span of an hour and we came to choose an absolutely varied repertoire, ranging from an impressionist style to the most romantic. I think the purpose was to reach the souls of men. I hope we did that! The hall? It was wonderful! Not so big, but with excellent acoustics and always when we sang it was full, so... any full room is great."

On January 16, Valentin Șerban evolved alongside the highly acclaimed pianist Verona Maier. About his encounter with the talented violinist, she said:

"
This
evening today, with a young man I have known for a few years, not many,
or so
many, was
brought to
me such joy and such gratitude and
such
a
n
o
pportunity,
that I would like this to happen to the musicians my age from time to time, because it's not just a very youthful air, it's that sensational combination of everything a young man can live with and everything he can do to throw himself
into
music and incredible maturity.
All things are arranged, they took time to be made, like when a wise man does them and, I think, this combination especially in this very balanced formula I have seen at Valentin, is the surest premise for a room to react as I have seen them react tonight."
Feature report by Jeanine Costache
Translated by Ivan Alexandra-Maria,
2nd year MTTLC, University of Bucharest