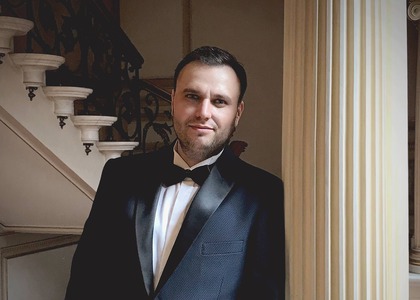 The Tuesday Evening Season at the Romanian Athenaeum – 23rd January, 2018
Friday, 26 January 2018 , ora 13.07

A recital held under the sign of love which was performed by tenor Mihai Urzicana and pianist Raluca Oatu during the Tuesday Evening Season. The intermittent contributions of their guest - actor Alexandru Unguru who interpreted his part as an insight into the theme of love and the possibly successful search for the much-wanted "other half" - were also very interesting. In the interpretation of the two musicians, we listened to both arias from the operas by Mozart, Tchaikovsky, Puccini, Massenet and Gounod and also a lied by George Enescu. Mihai Urzicana is a tenor with beautiful and rich native data, with a pleasant timbre who masters both his voice and also his acute skills. On 23rd January, he interpreted the repertoire he had chosen, with pleasure and enthusiasm, and told us some details about it:

"Puccini's work was predominant in the concert; all the tenor's songs were love songs. Anyone performing on this stage would be happy at the chance of singing and playing in such an important cultural institution and I am very glad that I had the opportunity to play here. I tried to add into the programme, pieces that I had also played in the competition - I won the 1st Prize at the Mihail Jora Competition last year. "
In his musical approach, tenor Mihai Urzicana was intricately supported by pianist Raluca Oatu, who was enthusiastic about her collaboration with tenor Mihai Urzicana,

"I can tell you Mihai is an absolutely delightful person. He is a very honest man and that's why I really like playing with him, because he is endowed with that normal and sincere personality that, actually, we all look for in a person. Our purpose as artists is to be honest on stage so the warmth in our souls could reach you."

Surely the name of tenor Mihai Urzicana deserves attention and we will probably hear more about his future successes, as Bianca Manoleanu who guides his musical steps, assured us:

"I am extremely excited because this is his first recital. He has won a series of awards this year. My whole work as a teacher is to highlight his magnificent voice and his magnificent soul. As you may have heard, he is a very exceptional tenor who has a great future ahead of him, a great person dedicated to music endowed with a sincere personality ... . He has an inquisitive nature, he learns fast, he uses his newly acquired knowledge without hesitation and remembers everything.
He is an
artist who knows how to reveal the secrets of a piece of music that he does not really know, because he uses his intuition and talent and when he has got to understand it well, he amazes us with what he can bring to the surface!
"
Feature report by Jeanine Costache
Translated by Elena Daniela Radu,
MTTLC, the University of Bucharest