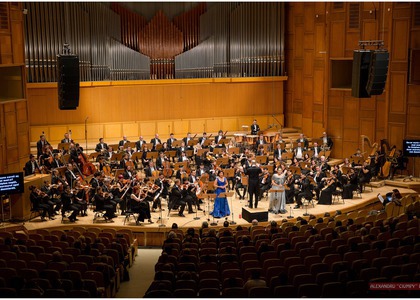 An evening of Schoenberg-Wagner with the National Radio Orchestra conducted by Julien Salemkour
Thursday, 8 February 2018 , ora 10.33

"We are looking forward to see you at this concert which is going to be an extraordinary event that took a lot of work and where the Romanian public will get the chance to listen to some superb music."

Tenor Marius Budoiu launched this invitation for the night of February the 2nd 2018 from the Radio Hall. An interesting Schoenberg-Wagner evening with a good troop of performers led by a skillful conductor whose name is Julien Salemkour. I can say that the people who didn't attend this concert have something to regret - a night with a totally different repertoire, a night full of emotions where performers, spectators and professionals alike were deeply moved.

Among the latter was the soprano Alina Bottez: "I find it extraordinary that for a few years now our country has adopted this tradition of playing Wagner in concerts, because it is a great opportunity for the Romanian public to get a taste of Wagner. It was an amazing night. The Berlin conductor, Julien Salemkour, is a remarkable Wagnerian conductor. He managed to conduct without a musical score, he knew everything by heart. I heard he conducted dozens of shows, over 70 appearances with this opera. First of all, I think it is worth mentioning the skill with which the National Radio Orchestra handled themselves, as if they were used to playing Wagner, which I believe is a tremendous accomplishment. It was a great ensemble. If there's one thing that can be said with certainty, you know, it is that normally a Wagner opera has the orchestra seated in the pit, and there were a few moments when the two protagonists, in particular, the titular characters, whose voices are high so they sound very good at a higher register, were slightly drowned by the orchestra's middle and low registers. "Had I been the conductor, I would have taken it easy with them, but, at the same time, I know very well that some lyrical voices cannot compete with super dramatic voices. Vlad Budoiu gave a very good performance as Tristan. The German soprano Barbara Krieger has a very high vocal range; nevertheless, a spectacular performance was given, of course, by the young German bass Daniel Pannermayr - who interpreted king Marke in a very nuanced, colorful and warm manner; as well as the Romanian mezzo-soprano - Aura Twarowska - who gave a very well contoured performance as Brangane, and Adrian Dumitru, the young tenor, who performed admirably as well. So, on the whole, the audience's applause was not in vain."

The musicians performed a well-balanced and colorful interpretation of two musical pieces: Transfigured Night by Arnold Schoenberg and the second act from the opera "Tristan and Isolda" by Richard Wagner, as concluded by the cellist Marin Cazacu:

What an amazing Schoenberg-Wagner evening! While listening to these two masterpieces, I was thinking what a great thing Radio Romania manages to do with the help of Bands Radio in order to offer its public - which is normally accustomed to symphonies, with a very different type of repertoire - even this act from "Tristan and Isolda" with the five outstanding, amazing opera singers, who have remarkable voices and offer an extraordinary and powerful performance. Although used to performing a different repertoire, the orchestra enchanted us tonight with this musical approach where love is on the agenda and they too tremble at the sound of this enthralling music. Of course, it is all thanks to the conductor who recommended this repertoire. I for one admit to adoring the sextet Transfigured Night. The version for string orchestra, as it was performed, was wonderfully executed, and this second Wagner act truly enchanted us all. The public reaction was extraordinary indeed. If they haven't been Wagner lovers before, they will surely become ones now.
Reported by Jeanine Costache
Translated by Ghencea Alexandra,
An 1, Master MTTLC, Universitatea Bucuresti