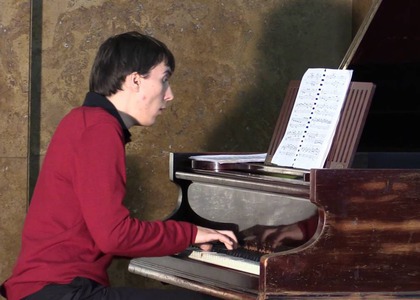 The Tuesday Evening Season at the Romanian Athenaeum – the 6th of February 2018
Friday, 9 February 2018 , ora 14.20

Gabriel Gîțan - a pianist who puts a lot of passion in his songs and who has a very good techique. Gabriel Gîțan is his name and he is present for the second time at the Tuesday Evening Seasons. Gabriel Gîțan is only 22 years old and he is a pianist whose talent has been recognized within various national and international contests, his track records being very impressive.
On the 6th of February, for his first recital in Sala Mică of the Romanian Athenaeum, the pianist chose works composed by Haydn and Liszt, an approach he explained in the end of the event:
"An Austro-Hungarian recital. Haydn and Weinen Klagen, Liszt's work, are old pieces that I retook. Mazeppa and Sonata are pieces that I worked on recently and I decided to make up a recital similar to that of the composer - Liszt, completed with Haydn. It is the first time I have come to the Tuesday Evening Season with a piano solo recital. I have felt wonderful, and, as usual, it is a pleasure to come back."
What did you want to transmit to the audience?
"I just wanted them to enjoy the brilliant music of these two composers."
Gabriel Gîțan held his audience from the very first notes thanks to his talent, his creative intuition and the force of expression which shows artistic maturity. Viniciu Moroianu, his maestro, was very content with the your artist's evolution.
"It was a recital with a very ambitious and vast programme, with mastepieces that deserve inner sustainment and long space performative force. Gabriel Gîțan is a very valuable artist within his generation of young pianists. He is an extremely profound musician and loyal to his work,which is reflected in the track records he has gathered along all these years. This evening he has proved inner sustainment, long space performative force, harmonic ear of an amazing quality. There are, indeed, things related to stage performance to be improved, but his profound artistic nature, of a very beautiful inner and artistic quality can be seen in everything he does, in the way he has performed Sonata by Hadyn and also in the musicality, the brightness, the pathos and the importance required by Liszt's works which he has performed, together with Sonata in Si Minor. He is a very promising boy. I believe in him and, if he continues to work so hard, we will for sure hear of him and enjoy his presence."
Report realized by Jeanine Costache
Translated by Răduțoiu Elena-Alexandra,
MTTLC, 2nd year