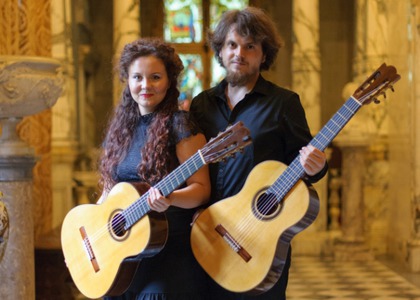 The Tuesday Evening Sessions at the Romanian Atheneum – February 13th, 2018
Thursday, 15 February 2018 , ora 12.19

The guitarists Alexandra Petrișor and Dragoș Horghidan or Duo Kitharsis - already a well-established musical formula that attracts the audience to the concert hall. It was founded in 2009 at the initiative of their maestro, Professor Catalin Ștefănescu-Pătrașcu. Since then, their career has been growing promisingy, with an important record, with acclaimed appearances both in the country and abroad. In 2015 Duo Kitharsis made their first compact disc, recording works by Rameau, Giulliani, de Falla and Piazzolla. Creatins by Rameau and Piazzolla, but also a work written by Cătălin Ștefănescu-Pătrașcu were also found in the program presented on the 13th of February, a musical approach about which the two musicians spoke with the same enthusiasm with which they sang:

"We also thought of giving the audience the opportunity to listen to songs for the guitar duo formula, such as the Tango Suite by Astor Piazzolla, then Joaquin Rodrigo - famous for his Concierto de Aranjuez. Then we had the piece written by Mr. Cătălin Ștefănescu-Pătrașcu, a piece that he dedicated to us during the time when we were students in Stuttgart; the song is called "Gerar". And we also have transcriptions."

"Transcriptions, as usual. Guitarists sing transcriptions because they want to line up with the heavy instruments. We are adventurous, we are very fanciful, very like Don Quixote, and we transcribe a little. Rameau, as an encore - Chopin, because we intend to record a disc at some point. I think we've managed to personalize our transcription a bit."

Alexandra Petrișor and Dragoș Horghidan are two instrumentalists who know each other very well, they complement themselves in their evolution, which is why I asked them to define the personality of each other in the other's vision:
"I cannot describe Dragoș because it's like he is me, that is, we are only one person and I think our strength in this duo is that we share the roles and we complete each other almost 100%."

"I could describe Alexandra very briefly. If I were to been born a woman, I would have liked to be born as Alexandra."

Sensitivity, innovation, good agility in the difficult passages and, last but not least, excellent communication were demonstrated by the guitarists Alexandra Petrișor and Dragoș Horghidan at the Small Hall of the Romanian Atheneum; two musicians who dedicated their evening on the 13th of February, 2018, to the guitar, through a recital rarely seen in concert halls.
Feature report by Jeanine Costache
Translated by Ivan Alexandra-Maria,
2nd year MTTLC, University of Bucharest