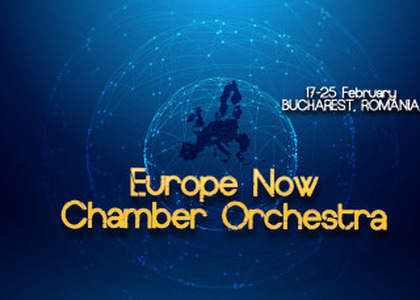 The Europe Now Chamber Orchestra Festival – ending concert at the Radio Hall
Thursday, 1 March 2018 , ora 10.19

The Europe Now Chamber Orchestra is "a drop in a river of fighting against division and hatred that sometimes seem to threaten and conquer Europe". Musicians join initiatives of any kind - in their case, artistic initiatives - that they know take place in hundreds of places all over the Old Continent in order to ensure not necessarily its political and economic cohesion, but rather its cultural and identity cohesion", says Theodor Andreescu, founder of the ensemble and chairman of the "Rute muzicale" Cultural Association. The orchestra, comprised of 45 musicians from 11 European countries such as Austria, France, Germany, Poland and Romania, performed its first concert in this formula yesterday evening on the stage of the Radio Hall, in the ending of the Europe Now festival, which began on February 21st in Bucharest.
The program for the evening started with the work Children of Europe, created by composer Victor Savca especially for the occasion:

"Last summer I went on a country tour with Theo. He knew I had begun writing something. It was a string quartet which we played during the tour and they liked it a lot. A month ago, Theo came to me and suggested I write a piece and that he would surely play it. 'I challenge you to write it!' It was a very interesting challenge and I'm glad Theo and the orchestra gave me this opportunity. It's all about the children, the young souls that have to always be optimistic. It's about youth!"

Coming up, Peter Stark, conductor of the European Union Youth Orchestra (EUYO), who led the concert, invited us to enjoy a few minutes of quiet that enframed that Adagietto from Gustav Mahler's Symphony no. 5. This is how Peter Stark sees the future of the Europe Now chamber orchestra:

"The energy and spirit found in young people are something else. When the time of the concert comes, they are just unleashed, and that's why the concert is always better than the rehearsals, when it comes to young musicians. This makes me keep conducting youth orchestras. These are difficult times. As to the future, we have to keep track of two things: the first is to convince the politicians and institutions responsible with the financing of the importance of live music; second, for these young people, whatever they choose to do in their career - whether they remain musicians in an orchestra or they become soloists or professors -, what they gain through this experience is a skills they won't find anywhere else. They could get it through sport, it's true, but sport is competitive. The beauty of this experience is that it teaches you what sport teaches you, only in an atmosphere of complete collaboration."

The soloist for the evening was German cellist Alban Gerhardt, who we could hear perform the Concerto in D major for cello and orchestra by Joseph Haydn, but also in Beethoven's Heroic Symphony, which also closed the evening, where he joined the cello parts:

"I was impressed by the fact that, even though they only came together yesterday, they immediately played together, with a homogeneity that is quite rare. Playing in a chamber orchestra isn't easy, but they got things together very quick. Peter also did a great job, I felt very well performing with him. I've played in youth orchestras 30 years ago, it's an extraordinary feeling to relive these experiences."

We asked Theodor Andreescu, the initiator of the project, what the final result of the festival is and what's next for the Europe Now Chamber Orchestra:

"I want to thank everyone who helped us. Without them, this wouldn't have been possible. I found out once again that together we can do great things, however crazy or strange a dream or idea may sound; if enough energy is invested and if many people work together and are dedicated to a plan, it will happen and it will change lives. The Europe Now Chamber Orchestra will continue on its mission and make its voice heard. We are currently negotiating with the Festival in Alicante and are trying to enter a small festival in Finland."
Coverage by Ana Diaconu
Translated by George Arion,
MTTLC 1, Universitatea București