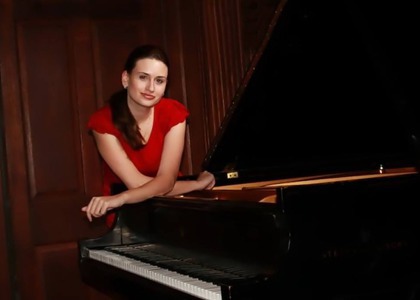 Vocal and piano recital during the Tuesday Evening Musical Season – February 27th 2018
Friday, 2 March 2018 , ora 14.04

Winter and low temperatures did not stop music lovers from yet another meeting with chamber music at the recital offered yesterday during the Tuesday Evening Musical Season. Tenor Benjamin von Reiche and pianist Edit Fazakas were for the first time invited to perform on the stage of the Small Hall of the Romanian Athenaeum. Benjamin von Reiche was born in New York and later lived in Germany, France and the United States. After graduating from university, he collaborated with several opera companies in Germany, and in 2012 the singer received an award from the Richard Wagner International Society. Among his achievements is the presentation of Henri Duparc's complete works for high voice - another collaboration with Edit-Maria Fazakas, in a concert that took place in Berlin in 2014. Edit Fazakas is a Romanian-born musician who graduated from the Oberlin College and Conservatory in Ohio under the guidance of pianist Pete Takács. This is alo where she first met Benjamin von Reiche:

"We studied together at the Oberlin, in the United States. So we met at the conservatory there and this is how a beautiful collaboration began which later resulted in a series of recitals that performed together."

Yesterday, Edit Fazakas and Benjamin von Reiche played Three Sonnets by Petrarca from the works of Franz Liszt, five of the most famous pieces for voice and piano by Claude Debussy and The Last Four Lieds by Richard Strauss, which seemed to perfectly fit Benjamin von Reiche's voice and the rather incisive technique of the two musicians. The selection of the repertoire was entirely up to the tenor:

"I love this music. I sung Liszt at the graduation concert and really wanted to revisit him. Strauss is almost a must-sing for tenors. It's also a sort of adventure in new territories because the voice, just like the human body, matures in time. I certainly wouldn't have sung Strauss eight years ago, but I think now was the right time to do it. And Debussy I simply adore!"

After this evening dedicated to the voice-piano duo, the Tuesday Evening Musical Season invites us next week to a piano solo recital performed by Thai musician Tin-I Lee, who will play works by Bach, Mozart, Schubert and Stravinsky.
Coverage by Ana Diaconu
Translated by Georgiana Nutu,
MTTLC 1, University of Bucharest