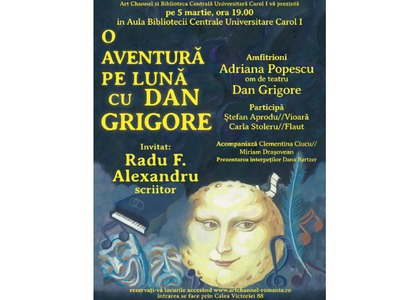 A montly "adventure" with Dan Grigore! Cultural soireé at the Carol I Central University Library Hall
Wednesday, 7 March 2018 , ora 10.01

Yesterday night I also took part in the artistic "adventure" offered by the Cultural Association and the Media Channel "Art Channel" that had a special host in pianist Dan Grigore. I nostalgically remembered the cultural nights with the late Iosif Sava, when the music was always accompanied by interesting debates.

Maestro Dan Grigore offered us something new, that is to discover what the value of both musical and verbal communication between the stage and the public is, especially nowadays when art is promoted, but also has its weaknesses in the way it is perceived.

The idea to connect music with other arts, to explain the message hidden among the sounds through words and body language, managed to kindle the fascination in the listeners' souls.

Maestro Dan Grigore had two guests, Mrs. Adriana Popescu, a woman of theatre, and Radu F. Alexandru, screenwriter, playwright and writer. On the stage there were also two young interpreters. Dan Creimerman, the manager of the Media Channel "Art Channel", who also broadcast the event, had this to say about them: "It's impossible to say what maestro Dan Grigore is about to perform because we don't know either. He wants to surprise and please us. But, whatever he plays, it will be awesome. On stage, accompanying Dan Grigore, will be Carla Stoleriu, a flute student at the Bucharest National University of Music in the class of professor Ion Bogdan Ștefănescu, and Ștefan Aprodu, a student at the "Dinu Lipatti" National Arts College, where he practices with professor Magdalena Ursu. Each of them will perform for around 12 to 15 minutes. I tried to strike a balance between the music and the topics discussed".

The stars of the evening, the two young performers, enjoyed a high-profile presentation from singer Dana Bartzer, who also created a special bond with each of them: "It's a connection that I also discover with every concert, I feel myself very close to them, I try to guide them, make them understand that the performance of an artist starts with the first steps he makes out on the stage and ends with the last ones, when he or she goes to the backstage. I try to teach them posture, how to make themselves feel good on stage and how to carry themselves, mimic, the joy they express and the excitement they instill in those who listen to them".
Report byLaura Ana Mânzat
Translated by Georgiana Nutu,
MTTLC 1, University of Bucharest