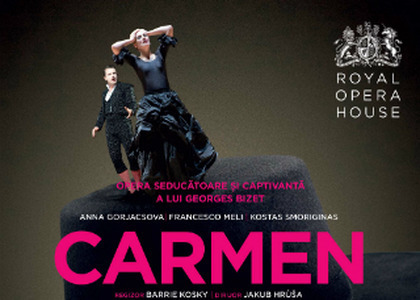 Carmen de Georges Bizet, a Royal Opera Covent Garden production at Happy Cinema - Bucharest, March 11, 2018
Tuesday, 13 March 2018 , ora 11.54

Bizet's most popular work - "Carmen" - is the latest production of London Covent Garden. The show recording which took place on March 9 was played in Romania too at Bucharest Happy Cinema on Sunday, March 11.

After so many stage versions, the director's task is a difficult one, this mission having been given to Australian Berry Kosky - one of the world's most famous opera directors. Berry Kosky debuted at the Royal Opera Covent Garden in 2016 with "The godfather" by Shostakovich, a perfomance which was received with a lot of enthusiasm.

For "Carmen", Berry Kosky thought about a version which is very far from traditionalism. Perhaps that happens because at first it was meant for the German background, respectively for the Frankfurt Opera, the perfect place for uncommon modern creations. For the Covent Garden production, Berry Kosky gives the spoken dialogue to an invisible narrator, the Australian director looks through Bizet's manuscripts and finds a few versions - like habanera or seguidilla - which have yet to be presented to the public and which he introduces through the production that he created; a "glamour" production according to some people, which resembles the cabaret. We could say that it's a "cabaret" but not from the perspective of sparkling costumes and décor, but from the perspective of the multiple ballet shows with cancan, charleston and flamenco elements.

Berry Kosky focused on the main character, Carmen, the free sophisticated woman, desired by every man, and Russian mezzo sprano - Anna Goryachova - succeeds in creating the sensual, passionate, possesive, jealous woman without looking vulgar.

The relation to Spain is kept by the director through two simbols: the Toreador, Carmen herself wearing a toreador costume, and a large number of stairs which surround the stage where the spectacular bullfights take place. A static décor, so to speak, which is brought to life by the characters, Berry Kosky having turned every dancer and every member of the choir into a character, therefore succeeding in making a production full of life and action, with energetic dances, a complete show in which the soloists are singers, actors and dancers.

As expected from a stage with a great reputation like Covent Garden Opera, the performance cast was just as great, including some of the most famous opera soloists. Under the Czech Jakub Hrù¹a's baton, the following artists performed: mezzo-soprano Anna Goryachova - the interpret of the heroine, tenor Francesco Meli - Don Jose, soprano Anett Fritsch - Micaela and baritone Kostas Smoriginas - Escamillo. As a spectator, I was glad that through the Happy Cinema production I interacted directly with what happens on one of the most important lyrical stages, London Royal Opera Covent Garden.
Jeanine Costache
Translated by Gheorghe Roxana Cristina,
University of Bucharest, MTTLC, First Year