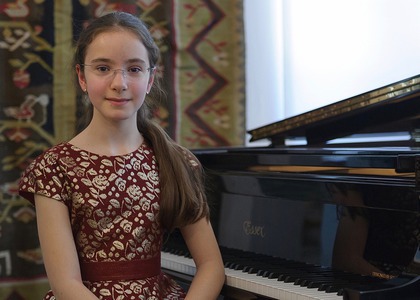 Tuesday Night Season at the Romanian Athenaeum – March 13th 2018
Thursday, 15 March 2018 , ora 11.40

Eva Garet is just 11 years old but she has won more than 40 trophies so far. The young pianist was the guest of the Tuesday Night Season on March 13th. In 2016, when she became the youngest laureate of the "Golden Lyre" Contest, the president of the jury - Professor Vlad Dimulescu - perceived Eva Garet as a little genius, asserting that, and I quote: "she is one of the most precious talents of our country".

In January 2018, Eva Garet debuted as a concert pianist on the stage of Radio Hall with a performance of Concerto No. 23 for piano and orchestra by Mozart. At her 11 years old, she dared to perform a long and difficult program which she had fully memorized, showing self-control, a great piano technique and a lot of expressivity. Mihaela Zamfirescu, who guides the young pupil at the "George Enescu" Musical Highschool in Bucharest, was content with her student's evolution:

"She is an exquisite, gifted child, focused, very hardworking, with an extraordinary mind and a great sensibility, which puts a lot of effort in her work. She performs very large and various repertories and it pays off, I would say. Tonight was good, it can be better. Many of the plays were newly introduced in her repertory and it has been the first contact with the stage and with the public in this regard. And we hope to get even better. She has perspectives - all data confirms this -, all she needs is a bit of luck and the rest will come from her."

Scarlatti, Beethoven, Liszt, Chopin and Enescu are the composers which Eva Garet has chosen. Her recital, which took place in the Small Hall of the Romanian Athenaeum, has been appreciated by a large and enthusiast public. Eva Garet is a pianistic hope respected by the specialists and made herself remarked at the contests at which she has participated. So remember her name for we will definitely hear it again soon.
Report by Jeanine Costache
Translated by Maria Zorilă,
MTTLC, 1st year