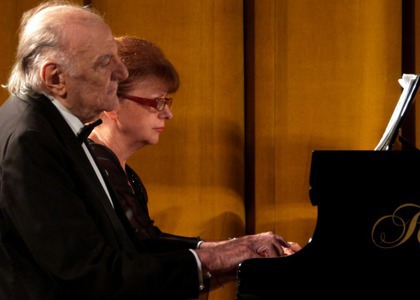 Anniversary concert for Valentin Gheorghiu at the Radio Hall
Wednesday, 21 March 2018 , ora 13.37

On Friday, March 16, the eminent artist Valentin Gheorghiu was paid homage through an anniversary concert at the Radio Hall, an artist that is a true symbol of Romanian pianistic, with an exceptional career, a true artist, whose discrete, but overwhelming presence enriched a not too generous era with his talent. He's been with us for 90 years, an age that he will reach in two days; we have the memories of hundreds, or perhaps thousands of concerts making up a referential repertoire and his art proof having been put, as much as possible, on dozens of tapes, we also had the proof of his fidelity and love for the public on Friday. Long applause accompanied the maestro's entrance on the stage along with his partner, pianist Roxana Gheorghiu and conductor Philip Mann, protagonists of Concerto for two pianos and orchestra KV 365 in E-flat major by W. A. Mozart, a story that the two of them can relate too, being told this time with calmness and detachment, making us think about the privilege that we have for witnessing such performance - an artist that has literally been on stage for 75 years. I recognised the artist's touch and translucent subtlety who was barely touching the piano in a delicate hug, but also the undertaken confidence of the final Rondo. I also appreciated the beautiful act of the Radio National Orchestra, that dedicated him the Happy Birthday song, in front of the public'a applause, an impressed, assertive and finally rewarded public with some of Johannes Brahms' Waltzes for two pianos, op. 39, the last one truly leaving us with the image of an unrepeatable moment, inspired by the talent that was flowing around...
Of course, the public's reaction was impressive too:
"A long life full of happiness and achievements - this is what his life seems like. He is a model for anybody, a role model. A happy person. You're thinking that Romanians used to be more fair, better people, more long-lasting. I am a former Chemistry teacher - Valentin Oancea."
I found Olga Grigorescu in the Radio Hall's loge, shows producer at Radio Romania Music: "He is a real phenomenon and for us, an extraordinary joy ro relisten to Valentin Gheorghiu - this artist that has such a great finesse and that produces such beautiful sounds and always delights us. It was a rapture to listen to this concert with Valentin Gheorghiu at his age of 90 years!"
Furthermore, musical critic Dumitru Avachian: "Valentin Gheorghiu remains the complex artist, the artist that is also a performer - I've been hearing him for 70 years on the stage of the Athenaeum, here at the Radio. He is the artist that possesses a global communication in music, extremely consistent when it comes to the lyrism of the communication. We can affirm that Valentin Gheorghiu is one of the last romanticist artists, that belongs to the middle generations of the XXth century."
I admired a university lecturer that brought his students to the concert: "I appreciate Radio Romania Music! This is how I arrived at the Radio Hall, through Radio Romania Music, and this is how I brought them here too and I hope that this appreciation can be spread. I believe it is amazing, it's a gift from God, to sing for your entire life - to have been on the stage for almost a century. I am a university lecturer, Aureliana Roman from ASE."
"I am far from a specialist or an expert. I am just a simple fan. Of course, it is a relaxing experience that makes us forget about the daily stress and all I can do is reccomend this kind of cultural event to everybody. Ștefan Boca, ASE student."
Report by Marina Nedelcu
Translated by Gheorghe Roxana Cristina,
University of Bucharest, MTTLC, First Year