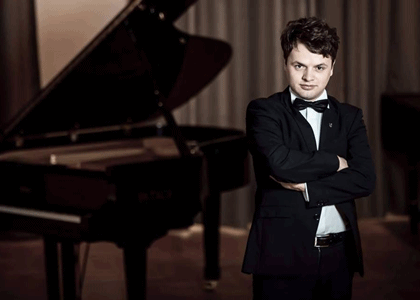 Tuesday night performance at the Romanian Athenaeum
Monday, 26 March 2018 , ora 9.32

Some critics say that Szöcs Botond is a "second Richter". The young pianist from Brașov has an excellent technique which he displayed to its fullest during his performance which included pieces by Beethoven, Liszt, and Rachmaninoff. His name on the Tuesday night performance's poster drew quite an audience in the Small Hall of the Romanian Atheneum on March 20th. Szöcs Botond is only 22 and he is already boasting a very impressive prize record, with numerous performances in Romania and abroad. He credits his teacher, Stela Drăgulin from the Faculty of Music in Brașov, for becoming such an amazing pianist.

"It was an amazing audience, it was such an enriching experience for me to perform here. First of all, I want to say that the most important thing in a student's life is his teacher. And I can say I have a very talented team, which means whenever I have some questions I can always call up my teacher, Mrs. Drăgulin, and work with her. One must have a very good team! Then we have to decide on a repertoire through which I can express myself as much as possible."

Szöcs Botond chose to perform a program imbued with sensitivity, energy, rhythm and intensity with which he managed to transpose us into the romantic universe with all its tumultuous emotions.

"By performing this sonata, I got the chance to learn many musical aspects; I enriched my musical knowledge as well as my technique. The Spanish Rhapsody is very important to me, as the theme, "La Folia", has been worked on by many composers. I like Rachmaninoff a lot... as the work has six parts; this is a very complex piece and at the same time I could learn many things by performing it. I wanted to express what I had studied with Mrs. Drăgulin. First of all, I wanted to express something I have deep in my soul - music and art.''

With very good technique, sensibility, and stylistic intuition out of the ordinary, Szöcs Botond has all the makings of a pianist capable of a meaningful career with spectacular developments that we will certainly be hearing about.
Coverage made by Jeanine Costache
Translated by Ghencea Alexandra,
An 1, Master MTTLC, Universitatea Bucuresti.