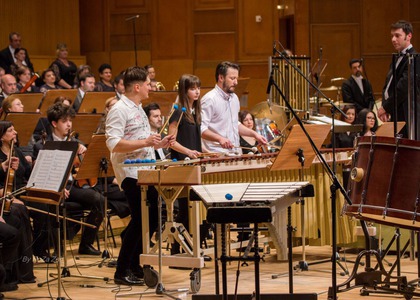 A new 2 Vibes Symphony concert at Radio Hall
Monday, 26 March 2018 , ora 10.05

Youth, effervescence, joy or energy are just some of the words that could describe what the audience was surprised with at Radio Hall on Wednesday, the 21st of March.

2 Vibes Symphonyis the name of the project that was able to bring together, in the Mihail Jora studio of the Romanian Broadcasting Studios, an impressive number of young people whose delight could undoubtedly be observed in the ovations given at the end of the performance. The Radio Chamber Orchestra, the Radio Academic Choir and conductor Constantin Grigore have accepted, albeit not for the first time, the challenge launched by the duo comprised of percussionists Alexandru Anastasiu, a member of the National Radio Orchestra, and Ciprian Rogojan, founder and member of the band Sistem, to take part in a slightly more unusual project for our concert halls. Having instruments such as drums, kettle drums, vibraphones and other percussion instruments for its solo act, the musicians have presented a program that brought together rock anthems such as Nothing Else Matters or Fragile with Romanian songs such as Mociorița cu trifoi, tribal songs and jazz pieces. A part of these arrangements, along with three original pieces were composed by Alexandru Anastasiu himself. Other solo artist that have delighted the stage were soprano Irina Baiunț, flutist Ioana Turcu and trumpeter Horațiu Boșca.

While for some audience members, the volume exceeded the acceptable decibels of a concert hall, most listeners found this unusual Wednesday for the Radio Chamber Orchestra quite delightful.

We should all be glad that such projects that manage to fill up an entire concert hall with a young and vibrant audience still exist. And, hopefully, the same audience will become more and more familiarized with the concert hall and will visit it more in the future.

Here is what conductor Constatin Grigore had to say at the end of the performance:
"It is undoubtedly different, and today, I realized that, even though it is the second time we are staging this show at Radio Hall, it is more demanding than a symphonic concert. That is what I felt tonight. There are a lot of solo parts, you have to take care of each and every one. The music is complex and it brings together the symphonic orchestra, the choir and a lot of percussion instruments. Thus, I am required to focus my attention in more aspects than an ordinary symphonic concert demands. And no, it is not a repertoire that we regularly perform. It has been a wonderful collaboration and, in my opinion, beneficial to the music that we present to a large audience."

...Alexandru Anastasiu and Ciprian Rogojan, the project founders, also had a few words to say:

"We love sharing a small part of our souls, that always goes out to the audience when we perform on stage. We are glad that, every time we play, we manage to convey the same feeling as our music: a lot of happiness."

"Of course, we keep the centennial in mind, we are thinking about the 100 year mark from the Great Union, and we already have some ongoing projects. I do believe that even tonight's concert has determined us to organize an outdoors concert. And when I say outdoors, I'm thinking between 7.000 to 10.000 seated people, our own choreography, and a repertoire comprised of a large number of rearranged Romanian songs, but also international pieces."
Feature report by Ana Diaconu
Translated by Ruxandra Vorotneac,
MTTLC 2nd Year University of Bucharest