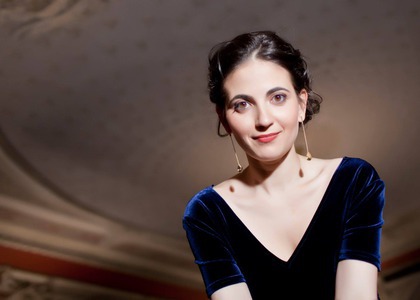 Recital Teodora Gheorghiu at the Romanian Athenaeum in Bucharest
Wednesday, 11 April 2018 , ora 14.20

On March 29, 2018, we assisted at the recital with which soprano Teodora Gheorghiu closed the national tour held in March 16-29 in six Romanian cities including Pitești, Caracal, Brașov, Alba Iulia, Arad and Bucharest. The host was the Great Hall of the Romanian Athenaeum with its superb acoustics in which the special stamp of Theodora Gheorghiu impressed the audience.

After a first part with lieder from the French creation in which Teodora Gheorghiu created an intimate atmosphere with French pianist Franck Villard, the audience was conquered and looked forward to part II of the recital with more spectacular pages both vocal and dramatic. I found violinist Marin Cazacu in the hall:
"I am impressed! I am fascinated, so warm, right, intelligently built and work-out phrases... We do not listen to such a recital of such lieder in Romania." In the first part, until now I listened to the French works by Duparc, by Ravel and Hahn, but we are also looking forward to the second part, which I think will be an Italian repertoire. This French repertoire with these extraordinary inflections conquered me. "

Teodora Gheorghiu thought step by step the recital led with intelligence with long-lasting phrases and a certain acuteness, which led to a recital appreciated both by music lovers and specialists like Liga Ardelean - critic and radio programme maker at Radio Romania Musical:

"I have been following Teodora Gheorghiu for a long time, I have known her for a long time - since she was a student. She is an intelligent and cultivated artist, with a very good voice - very worked, very confident on the technical means. Tonight I appreciated the purity of her voice, the program that she chose and which seemed to me, for the most part, appropriate to her vocal caliber and temperament. Personally, I would have liked her more emotionally involved, less linked to the score. "
Interview by Jeanine Costache
Translated by Costache Alexandra Iuliana,
MTTLC, 1st year;
Proofreading/Editing Mihaela Ghițescu,
MTTLC An II