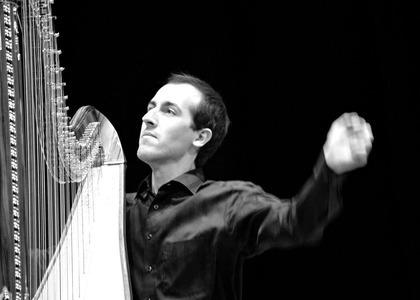 Tuesday Night Season at the Romanian Athenaeum on 3rd of April 2018
Monday, 16 April 2018 , ora 13.13

The harp was the "star" of the recital from 3rd of April at the Small Hall of the Romanian Athenaeum and guest of the Tuesday evenings was Viktor Hartobanu. Professor at the Vorarlberg Music Conservatory in Feldkirch, Austria. Winner of several international competitions, Viktor Hartobanu is a complex musician, performer and composer, who gave an interesting performance featuring his own compositions and some of his harp arrangements. Viktor Hartobanu explained his musical approach and revealed the harp in its entire complexity with such spectacular technical ability. Viktor Hartobanu and his guests Miruna Vidican and Andrei Olaru had a large audience filling the Small Hall of the Athenaeum. Nervous during his first appearance at the Tuesday Evenings, he had this to say:

"It's a wonderful atmosphere. This room is every bit like a box of jewels… and the audience was very receptive. You can't ask for more as an artist: for them to really listen and be careful. And I am happy, it went well, really well! I am also enjoying the reactions from the audience. It was wonderful!"

Viktor Hartobanu is 28 years of age and is a musician who brings the harp to life by turning it into a compelling solo instrument through the multitude of sounds he reveals through an exemplary technique.
Coverage by Jeanine Costache
Translated by Georgiana Nuțu,
MTTLC, 1st Year, University of Bucharest;
Proofreading/Editing: Mihaela Ghițescu MTTLC An II