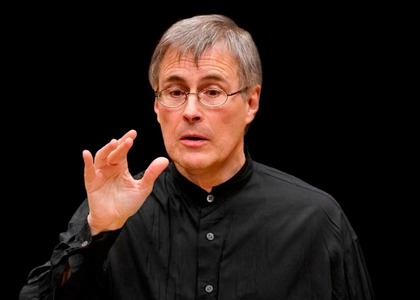 Christian Zacharias - repetition with public at the Romanian Athenaeum
Thursday, 19 April 2018 , ora 15.38

It is quite a rare occasion to take part in the repetition of a symphonic orchestra, when you are not directly involved in the phenomenon. The harder it ist o get to see how a world-class artist works with such an ensemble. And there it is: the "George Enescu" Philarmonic has offered today this chance to the public to take part to Christian Zacharias rehearsal. The reputable pianist and conductor is in Bucharest today and tomorrow (13th and 14th of April 2018) to perform the season concerts of the philarmonic, sold-out. It is amazing to see his unique perspective on Mendelssohn and Schumann music, as much as I could catch since 10 o'clock. I could see how the artist turns into Christian Zacharias - the pianist and Christian Zacharias - the conductor. One word can describe what I have seen: efficiency; without long stories, without useless breaks - right to the point. Perhaps I would have liked to see more students in the audience, but it was a great joy to participate at this type of event.

This is what maestro Zacharias told me about the returning in Bucharest during the rehearsal break:

"It is just like coming home. I come here for almost 15 years, every time with the festival, but at one point I wanted to come here simply in the season for the ordinary public and for the artists of Bucharest. This orchestra is great and more than that it performs in my favourite halls: I wanted to be again at the Athenaeum, it is one of the most beautiful places that I know. So the plan worked last year and now I am back. I can set the programs that I really want. I can have the choir, the big orchestra and we can present a purely romantic program with pieces by Brahms, Schumann and Mendelssohn. I have a very fruitful relationship with this orchestra".
Coverage by Radu Mihalache
Translated by Georgiana Nuțu MTTLC, 1st year;
Proofreading/Editing: Mihaela Ghitescu MTTLC An II