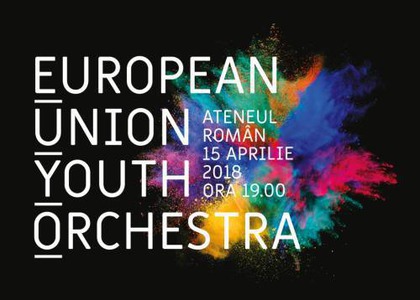 The European Union Youth Orchestra – outstanding tour finale at the Romanian Athenaeum
Thursday, 19 April 2018 , ora 16.05

The European Union Youth Orchestra put on a brilliant performance on Sunday, April 15, at the Romanian Athenaeum when it celebrated the 40th anniversary since its creation. The event was organized by the Romanian Cultural Institute, and the opening speech was given by ICR President, Liliana Țuroiu:

"The European Youth Orchestra's dedication and the quintessence of cultural diplomacy converge at a fundamental level. By supporting the participation of young Romanian musicians in EUYO and by organizing a concert such as this one, the Romanian Cultural Institute acts by virtue of its mission to promote excellence."

Under the leadership of the renowned Russian musician Vasily Petrenko - one of the ensemble's permanent conductors - we listened to the introduction made by AdMusicam Ensemble which performed Victor Savca's Rustic Quartet (former member of the European Union Youth Orchestra), and then to the famous Piano Concerto no. 2 by Sergei Rachmaninoff which was played by soloist Alexandra Dariescu:

"It was an incredibly exciting evening. The fact that I performed alongside the European Union Youth Orchestra was wonderful. Since we last spoke I also held a concert in Dubai; their pianist got sick and they called me. In four hours I was at the airport. So, I'm glad we had a second chance to play together; the way these musicians play and also their passion and enthusiasm are truly inspiring!"

Violonist Răzvan Popovici, who was among the audience, also professed his excitement regarding the concert:

"The thing that makes me happy after listening to an orchestra like this one, is that Europe's musical future is in good hands. It will be brilliant! This is the result if you invest in youth! A fantastic orchestra which sounds better than many other symphony orchestras around the world."

There was also the second part of the concert, equally successful, which included Rimsky-Korsakov's Scheherazade. The evening ended on a positive note with ambitious promises by actor George Ivașcu, Minister of Culture and National Identity:

"I have several thoughts and I wouldn't like to divulge them now, but I assure you that these artists will return here on several other occasions because I believe that - besides the positive energy we felt today, and apart from their professionalism - the joy that they shared with us deserves to be felt again here in Romania. I have been appointed minister two months ago and I only just started contacting various ensembles…like the orchestra here…and that is why I was here today. We shall be making a calendar because they also have a pre-set calendar. Along with the timetable we have for the next year, especially because of the Enescu Festival, we must find those things which they can make place for in their already made schedule.
Coverage by Ana Diaconu
Translated by Denisse Grigore,
MTTLC, the University of Bucharest;
Proof: Ioan-Valeriu Enache, MTTLC 2