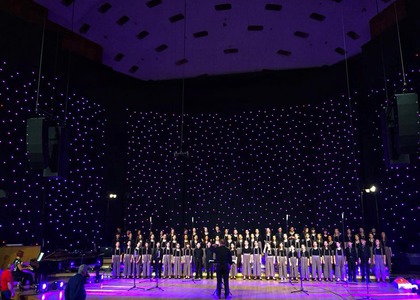 Sound of ... Musical – Concert with the Radio Children's Choir Concert at 'Mihail Jora' Hall
Thursday, 19 April 2018 , ora 16.11

Sound of ... Musical - standing ovations for an ensemble which became a brand of national culture - The Radio Children's Choir. Together with their conductors, Voicu Popescu and Răzvan Rădos, and pianist Magdalena Faur, the little artists form a golden team which elaborates their projects at length. As is the case with the latest project, the long-awaited spring concert that took place on April 14 at the Radio Hall. They brought the audience into the world musical theatre, reminding us of the famous screenings such as "West Side Story" by Leonard Bernstein, "Sound of Music" by Richard Rodgers, "Mary Poppins" by Richard and Robert Shermann, "Porgy and Bess "by George Gershwin" The Phantom of the Opera "by Andrew Lloyd Weber or "Veronica "by Temistocle Popa - a musical performed by the Radio Children's Choir in the opening part of the concert on April 14th. "Musical theatre means story, music, dance, animation, play and education." - said conductor Voicu Popescu in the presentation of the concert... and the children have indeed told us a sincere story, they brought us into a dream world of singing, imagination, and dance, everything wrapped up in a directorial concept by Maria Lăcătuș and Oana Necea.

The result... "Sound of ... Musical" was a well-thought-out and well-interpreted show, at the end of which the audience broke out in applauses and cheers; this was a toilful and a long-time-planned idea with a spectacular ending to the delight of conductor Voicu Popescu:

"The public's reaction was so beautiful that it is impossible not to repeat the concert, as you will see, and not to think of a new project that will be equally beautiful and valuable. We want the children to benefit from the widest musical horizon possible. In other words, after a project which included, let's say, contemporary music in the classical sense, we then came up with the idea to also include this type of music that we experienced as children. Such was the case with the famous movie, Veronica, or the first musicals that we experienced together. That music, which although belongs to our century, has a certain characteristic - that is, it links generations to each other".

The concert "Sound of ... Musical" was also re-scheduled by popular demand for the evening of April 21, 2018.
The recording of the concert which took place on April 14 will be played on Radio România Muzical radio station on Tuesday, May 1, at the 19.30 during the Concertele RRM (RRM Concerts) radio show.
Coverage by Jeanine Costache
Translated by Denisse Grigore,
MTTLC, An II, the University of Bucharest;
Proof: Ioan-Valeriu Enache, MTTLC 2