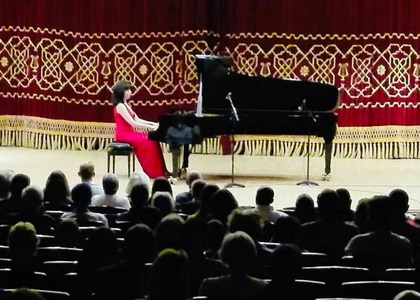 Viennese evening with Luiza Borac under the dome of the Romanian Athenaeum
Thursday, 26 April 2018 , ora 16.01

A Viennese evening was celebrated under the dome of the Romanian Athenaeum on 21st of April 2018. The event was organised by pianist Luiza Borac who returned for the third consecutive evening on the stage of the Romanian Athenaeum's Grand Hall. Through her exquisite technique and unique sonority, Luiza Borac took us through the Viennese salons offering us music meant for relaxation. There were pieces we don't get hear in concert halls; it was a unique repertoire that only those in the audience had the opportunity to listen to. The audience was completely enchanted by the end of the concert. Ana Maria Ion, a student of the National University of Music Bucharest, was impressed by Luiza Borac's amazing technique:
"This recital was impressive. Even if the hall wasn't full, Luiza Borac filled it with emotion and depth - a very talented pianist. Her way of playing the piano is breath-taking - a perfect technique and an extremely sophisticated and exquisite colour of sound."

The protagonist, pianist Luiza Borac, talked about her experience during the three consecutive evenings under the dome of the Romanian Athenaeum:

"This was a celebration of music for me as well, and a joy of the heart because the repertoire was very beautifully chosen together with the "George Enescu" Philharmonic Orchestra. The Emperor Concerto by Beethoven is the musical summit that every pianist aspires to conquer. It was a very demanding, but not impossible task; for me this was a great joy to play alongside such a wonderful orchestra. I really enjoyed the association of these pieces by composers, pianists and great soloists who were fascinated by the Viennese Waltz - the most beautiful dance that became internationally recognized."

Critic Dumitru Avachian also appreciated Luiza Borac's outstanding talent and the stylistic intuition promoted through an original program:

"She has an exceptional talent, and a musical and stylistic intuition that doesn't fail. And, as you can see, this was a very original recital with pieces that do not normally exist in the program of the piano recitals; this is a Viennese music recital with pieces that are very rarely performed in concert halls in Bucharest. It is about Mozart's variations on a theme, Schubert's Ecossaises and German Dances, Fritz Kreisler's works, and about the reinterpretations made by Rachmaninoff...in any case about Godowski, about "accessibility" music of great sophistication. Luiza Borac manifests once again a stylistic culture combined with great finesse and refinement and a culture of the sound adapted to the music she offers us."
Coverage by Jeanine Costache
Translated by Georgiana Nuțu, MTTLC, 1st Year, University of Bucharest;
PROOF: Ioan-Valeriu Enache MTTLC 2