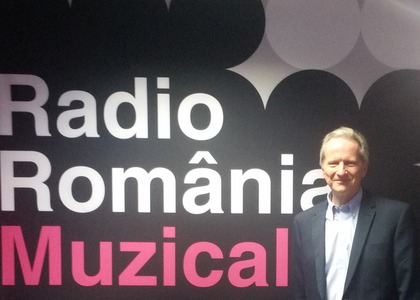 Visit of BBC Radio 3 program director at Radio Romania Music
Monday, 4 June 2018 , ora 10.55

Edward Blakeman, the program director for BBC Radio 3, was on 18th of May 2018 in Bucharest for an exchange experience with the Radio Romania Music editorial team.

Cristina Comandașu, editor in chief of our station, told us about the initiative of organizing this workshop:

"It seemed to me that it is very important for this station, for us, for the Romania Radio Music team to have a direct exchange experience with those who work exactly in the same field, in a public service and who are confronted with the same problems or questions, the dilemmas we also have, the ones who work with classical music here, at Radio Romania. So it seemed to me a good idea to invite a speaker from BBC3, our homologous radio station in UK, to share with us their experience. The question started from Radio Romania, reached the EBU Academy, which considered it a very good idea. I think, first of all, it is very important for our team to see that we are more, internationally speaking, who work daily to keep alive and to make enjoyable the classical music of today's world, in an environment not to favorable for this. However, it is very important to see that we are many, we are together and we share the same joys, the same dilemmas and that we find solutions together….and what Radio Romania Music is doing in Romania is a good thing, a quality work and I think we can enjoy what we do."

In the first part of the day, Edward Blakeman told us about the organization of the BBC Radio 3 team and about the wide range of programs of the post, focusing on ideas of great importance and timeliness such as the role of the online environment and social networks in classical music being approsched by the general public; the beneficial effect of the free, spontaneous discourse of the program makers; ideas for combining different genres of music and different arts. Radio 3 has in program a section for essays on different topics and a broadcast dedicated to theater. It is very important o broadcast live, almost daily, a significant number of concerts throughout the country.

The afternoon was reserved for youth discussions and ways of attracting them to classical music. Edward Blakeman talks about the topics he proposed to tackle during the today's meeting:

"The most important thing today is this wonderful opportunity of sharing our experiences. I come from London, from BBC Radio 3, you have here in Bucharest a popular and successful radio station dedicated to classical music. It is an extraordinary opportunity that we can share our experiences and challenges. Which are the things we are trying to do, how we try to share this wonderful thing called classical music with as many listeners as possible and what is the best way of doing it? I explained how we do at Radio 3 and how our programs are and I hope I will get many ideas form the people here. I have really come to talk about all the things that came to my mind. One of the topics I want to talk about is related to the relation between young people and classical music. How can we attract young people to classical music? How can we, at least, make sure that they have a chance to listen to it and which are our responsabilities, of the classical music radio stations towards the young audience?"
Coverage by Ana Diaconu
Translated by Georgiana Nuțu, MTTLC, An I;
Proofreading Mihaela Ghițescu, MTTLC, An II