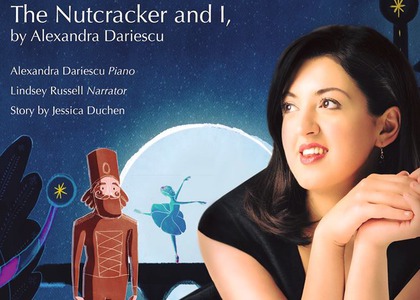 'The Nutcracker and I' Comes to Romania
Monday, 11 June 2018 , ora 11.35

Today, June 4, 2018, in the elegant ambiance of the BRD Residence Scene9 in the 32 Ion Luca Caragiale Street, took place the press conference announcing 'The Nutcracker and I' International Tour presented by Alexandra Dariescu. The concept, which is more than a simple piano recital, combines Tchaikovsky's music - performed live - with dance and animation performed with the help of state of the art technology. Alexandra Dariescu took us through the entire process of putting together the project, which premiered last year at the Barbican Hall in London. We saw how the wonderful animation created by Yeast Culture took form, from early drawings of the characters to the refining of the movements provided by the ballet dancers.

The international tour will begin in Romania - November 16-26 -, with performances in Iași, Cluj, Bucharest and other cities and then throughout the whole of Europe. Alongside Alexandra Dariescu you can see ballerina Désirée Ballantyne, who will be interacting with the fairy tale characters. What's more, 'The Nutcracker and I' will be followed-up with an audiobook that is presented today for the first time.

Here is what Liliana Staciu - director of Radio Romania Music and director of the Radio Orchestras and Choir, - Flavia Popa - BRD representative - and pianist Alexandra Dariescu had to say during the press conference:

Liliana Staicu:
"I would like to say that during the period when we designed the project I spoke to Alexandra several times and I know all the thoughts, all the troubles, all the worries, but also all the passion and the heart she put into making this project become real and that is why the result is so emotional."

Flavia Popa:
"I dreamed the dream together with Alexandra and it's like magic… the fairy godmother's wand managed to turn it into something real and we are here today to announce the beginning - at least for Romania - of a project that comes from the soul and which I think will have an impact on young generations, because that is our aim. Alexandra is not only a wonderful human being, she is also a young, enterprising woman, with an innovative idea…"

Alexandra Dariescu:
"I'm so glad we are coming to Romania as part of this world tour! It will be great to visit five cities in Romania and present this project in the national theatres. I'm so very happy and I can't wait to meet the audience everywhere. It's my first tour in Romania, so I'm certain it will be something special!"
Coverage by Radu Mihalache
Translated by George Arion,
MTTLC 1, Universitatea București