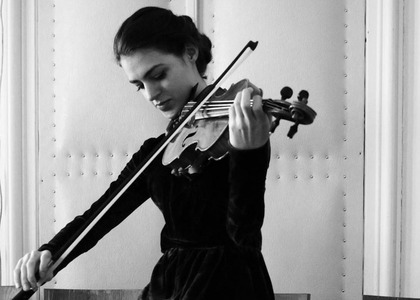 The Tuesday Evening Season at the Romanian Athenaeum – June 5, 2018
Wednesday, 13 June 2018 , ora 12.17

Violinist Adriana Gabrian, performing for the first time during the Tuesday soirees, is 21 years old. As a student in Augsburg, in the class of Professor Petru Munteanu, Adriana Gabrian is a violinist with an important portfolio, winner of several competitions in the Czech Republic, Germany and Ukraine. The program she offered on June 5 on the stage of the Small Hall of the Romanian Athenaeum is part of a contest in Macedonia, where she will be competing soon. That is why she also performed a modern piece:

"I am preparing for an international contest and the program for the soiree is also the one for the Ohrid competition in Macedonia - Song by Tomislaw Zagrowski, a Macedonian composer; it's a compulsory piece at the Ohrid Competition. The Romantic repertoire is very easy to approach, much easier than the classical one, because you have a lot of freedom, it allows you to more things when interpreting, but for me Bach is the piece that I find myself in the most, and he is also the composer I feel closest to. There's an exciting atmosphere every time I come and perform here; there's a perfect emotion in the air. I simply can't describe how I feel. It's wonderful!"

Alongside pianist Clementina Ristea Ciucu, Adriana Gabrian showed she is a confident instrumentalist who can perform difficult passages with ease, a violinist who likes to be on stage. With a native talent backed up by work, tenacity and ambition, Adriana Gabrian is a mature musician who has a refined sound and manages to create many beautiful moments that the audience appreciates.
Coverage by Jeanine Costache
Translated by George Arion, MTTLC, 1st year;
Proofreading: Violeta Baroana