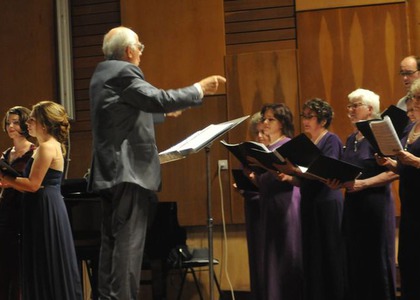 The Athenaeum's Choir of Bacău is 95 years old!
Friday, 15 June 2018 , ora 8.34

An ensemble which in 1941 was noted and appreciated by George Enescu himself, whose name relates to the 60th anniversary of George Bacovia, and which had concerts on the stage of the Romanian Athenaeum in front of the composers Ioan Dimitrie Chirescu, Alexandru Pașcanu, Mircea Neagu, all of them dedicating later numerous scores to the Athenaeum's Choir in Bacău.
The Choir was taken over in 1971 by the professor and conductor Ion Bănică, under whose baton it had concerts in the country and abroad. It participated in prestigious competitions and festivals and, although among the choristers there are only a few professionals and more amateurs, usually teachers, the Athenauem's Choir played for years the role of the Choir of the "Mihail Jora" Philharmonic Orchestra, participating in seasons and vocal symphonic concerts that were praised by the audience and the critics.
The concert on Friday, the 8th of June, held at the Mihail Jora Philharmonic Hall in Bacău, was a multiple jubilee: 95 years since the ensemble was funded, 45 years of conducting activity of professor Ion Bănică who reached 60 years of artistic activity, but who celebrated his 89 years of life once he retired and handed the ensemble over to another conductor - Gheorghe Gozar.

How do you feel after 45 years alongside this choir? I saw that people really love you. When you appear, all the choir members hug you.
Ion Bănică: It is a special bond between me and the Athenaeum's Choir. Both they and I regret the parting, but I will still be their mentor because I was told from the County Council to keep on advising the choir.
The Athenaeum's Choir in Bacău was described, for more than 40 years ago by the great master of the Romanian choral singing, Ioan Dimitrie Chirescu as a "delight for the audience" and from 1971, when the baton was taken over by Ion Bănică, and until today, the repertorial dowry of the ensemble gathered over 350 Romanian and universal pieces. Some of them were performed for the audience in Bacău at the jubilee concert on Friday, 8th of June, in a diverse repertoire with a cappella songs, but also with moments of great popularity from operas performed by the accompaniment of Flavius Marius Panait who replaced the orchestra with great mastery.
Laura Ana Mânzat
Translated by Georgiana Nutu, MTTLC 1, University of Bucharest;
Proofreading: Violeta Baroana