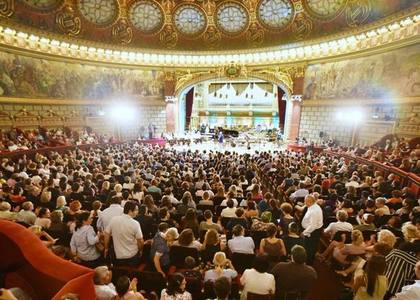 The 'Magic Summer' Festival at the Romanian Athenaeum
Friday, 20 July 2018 , ora 11.08

The "Magic Summer" festival is, both in importance and role, a cultural landmark of the Romanian musical life. What it makes different from an ordinary series of concerts is, in part, the promotion of young musicians. This was obvious last evening in the two moments of the inaugural concert at the Romanian Athenaeum.
In the first part the Violoncellissimo ensemble, conducted by Marin Cazacu, performed musical arrangements of famous works such as Élégie by Gabriel Fauré, Bolero by Maurice Ravel or Libertango by Astor Piazolla. Rondo alla turca by Wolfgang Amadeus Mozart was the most impressive arrangement with influences from jazz and rock.

Some reviews from the audience:

-The performance was excptional, as it was expected from the Violoncelissimo ensemble, and the repertoire seemed very inspiring to me.

-The performance of the Violoncelissimo ensemble was a very good one and they have gone through many music genres, not just classical; they also performed rock arrangements, perfectly chosen ones.

-They knew how to create a balance between the very slowly and sentimental works with the very energetic, lively ones and they have given a lot of emotion and feelings to the audience.

In the second part both the pedagogic and spectacular aspects were evident through the presence of the ensemble of 100 cellists. The members were both teachers and students from music universities in different regions of the country. The 100 cellists performed under the baton of the maestro Cristian Mandeal works such as Passacaglia by Georg Friedrich Haendel, Sardana by Pablo Casals or O Fortuna from Carmina Burana by Carl Orff, among others.

The next concert of the "Magic Summer" festival is scheduled this evening and it is dedicated to the St. Matthew Passion oratorio by Johann Sebastian Bach.
Coverage by Petre Fugaciu
Translated by Georgiana Nuțu, MTTLC, 1st Year;
Proofreading: Mihaela Ghitescu, MTTLC, 2nd Year