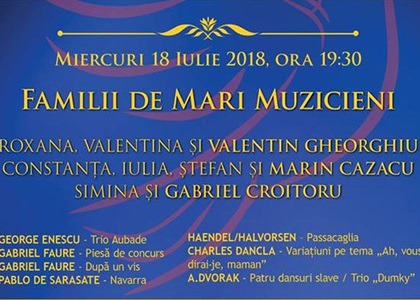 The 2018 Magic Summer Festival – Great Musician Families
Monday, 6 August 2018 , ora 11.12

Almost a year ago, on August 2, 2017, I was at the Romanian Athenaeum, where the Magic Summer Festival offered an event under the motto Dialogue between generations, whose generative concept was "the family". The same concept filled the Hall of the Athenaeum yesterday evening, during the 7th edition of the festival. The cast expanded from last year: Iulia, Ștefan and Marin Cazacu were accompanied by flautist Constanța Cazacu; the three Gheorghiu pianists - Valentin, Roxana and Valentina - kept the same formula, and the new element as opposed to last year was the family of violinists Gabriel Croitoru and his daughter, SImona Croitoru. The members of the three families are united by an old musical and human friendship, as cellist Marin Cazacu told us:
"All three families have known each other for many years now. We have been playing with maestro Valentin Gheorghiu for 40 years. We met Gabriel Croitoru 40 years ago as well, but have been playing together for only 30. The friendship between our families is so strong that we know each other's children, grandparents and other relatives very well."

Grouped in various chamber formulas, the musicians performed works by Enescu, Fauré, Rossini, Pablo de Sarasate, Halvorsen, Charles Dancla and Dvoűák.

Friends and colleagues from the musical world, such as Voicu Enăchescu, supported them from the audience:

"We heard some original works, in my opinion. I hadn't heard many of them before. The arrangements for the groups of instruments that appeared on stage were extraordinary. We broke the mold of the typical symphonic concerts and we offered a sort of quasi-entertainment."

Or pianist Carmen Manea:

"They are fantastic musicians. The Cazacus… we know them from the parents' generations. There is subtlety, depth, professionalism in what they play. The Croitorus performed Navarra by Pablo de Sarasate, a work of great virtuosity and sensibility. It's an exciting and uplifting evening for the audience."

The Magic Summer International Festival continues next week with two events: on Wednesday, July 25, the National Symphonic Orchestra of Romania will perform under the baton of Cristian Măcelaru, and on Thursday the audience is invited to the recital performed by Alexandru Tomescu, who will be accompanied on the piano by Sînziana Mircea.
Coverage by Ana Diaconu
Translated by George Arion, MTTLC, AN I;
Proofreading: Mihaela Ghitescu, MTTLC, AN II