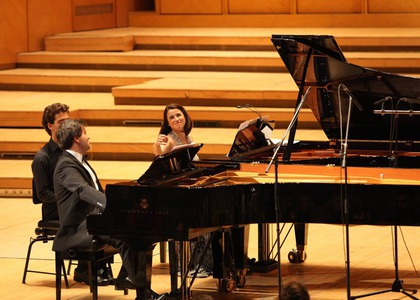 The Inheritors of Musical Romania – The Recital of Pianist Maria Dobrescu
Monday, 29 October 2018 , ora 9.06

The third and last evening of the "The Inheritors of Musical Romania" piano festival, which Radio Romania Music organized for the anniversary of the Centenary of the Great Union and 90 years of Radio Romania, began with a surprise.
Along with the protagonist of the evening, the France based Romanian pianist - Mara Dobrescu, we also got to see the return to the stage of pianist Florian Mitrea, whom we applauded on Tuesday, 16th of October on the first evening of the festival. The two performed the Variations Op. 5 For Two Pianos by George Enescu.
Then almost all the lights in Sala Radio went off, and Mara Dobrescu invited the audience, through a charming speech, to enjoy her into the dreamlike, nocturnal universe of the music composed by Debussy, Chopin, Enescu and Dinu Lipatti, also included on the record that the pianist released a few months ago in Paris, "Soleils de nuit".
"I chose this special program through which I wanted to share what moved me lately as an artist with the audience. We will dive into the night in this nocturnal journey that begins with seven pieces from Ephemeres by Philippe Hersant. For me it is a real pleasure and a mission to interpret the music of my time, alongside the works of Chopin, Debussy, Lipatti and, of course, Enescu. I wish you a beautiful and dreamy evening!"
Even after the concert, our very souls were still in the same dreamlike state, an impressionist universe, thanks to the vernissage by the students of "Nicolae Tonitza" High School of Fine Arts who accepted the challenge proposed by Mara Dobrescu and made paintings inspired by Claude Debussy's Nocturnes.
We talked to some of them at the end:
"It's not the first time I've done that, I have worked while listening to music; but rarely do I get completely inspired and create just according to the musical piece." -Daria
"When you listen to something, you come up with new ideas. That gave me a kind of very graceful harmony of colours." - Patrascu Ioana
"It was a feeling, and after that feeling I tried to discover a picture that best explains it." - Anastasia Soleanu
"In the painting I made, each element symbolizes something different, for example, light particles symbolize hope or happiness. My name is Bușilă Ioana Tomina."
Last but not least, accepting our invitation to listen to Mara Dobrescu in the closing recital of the piano festival "Inheritors of Musical Romania", Her Excellency Michèle Ramis, the Ambassador of France to Romania:
"I enjoyed the recital very much. It was a nice homage to French music, Debussy, and Enescu, who had lived in France, and I think of him as also French, considering that he studied and composed there, then brought many elements of French culture back with him to Romania. It seemed to me that the recital had a high level of technical difficulty, but it was very beautiful, expressive, with music spanning from Chopin's romanticism to opuses that are more modern. Mara is an extraordinary pianist who has demonstrated her talent, skill and emotional expression. I am delighted that she lives in France and I hope she come back from time to time to Romania."
The report was made by Ana Diaconu
Translated by Proca Florin, MTTLC AN 2