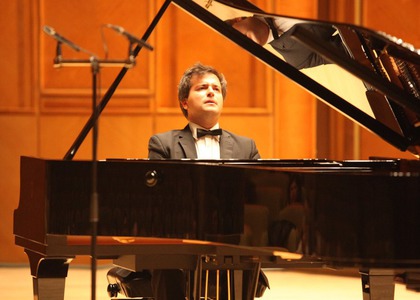 Inheritors of Musical Romania – the Performance of the Pianist Florian Mitrea
Monday, 29 October 2018 , ora 9.12

This festival celebrates the Centenary of the Grand Union and the 90th anniversary of Radio Romania. However, the festival also has the extremely important goal of bringing young Romanian pianists together and presenting them to the audience in Bucharest. The artists in question have performed and been applauded on numerous stages abroad. Moreover, they have recently accomplished some highly appreciated record productions, which also include many opuses by Romanian composers.
The first of the pianists, who delighted us last night with his sensitive yet solid and firm interpretations, using a spectacular dynamic pallet, is the 29-year-old musician Florian Mitrea:
"I was really excited! I have to acknowledge the amazing atmosphere: I barely got on stage and I could not believe the intensity on the one hand, and the liveliness on the other. It was like everyone in the crowd was actively participating in the concert. And I was kind of stressed, but the audience was great, very warm, very enthusiastic about the music and very supportive from beginning to end. The Mihail Jora studio looks absolutely incredible and it manages to make you feel like you're in a concert hall and not in a radio studio. The sound is very warm. In spite of all the emotions and pressure, I was very happy to open the festival!"
Based in the UK and winner of numerous international competitions, Florian Mitrea composed his recital program of works by Beethoven, Schubert and Franz Liszt, along with Romanian repertoire from the 20th century composed by Sigismund Toduță, Radu Paladi and Paul Constantinescu, which are also included on the pianist's debut record, Following the river.
For his encore, Mitrea prepared a piece by Dan Popescu, a representative of the Pipera Rotary Club:
"Our objective was to help bring back Romanian artists from abroad to perform in Bucharest, and we're very happy with its impact and the presence we have seen both among Rotarians and the Romanian audience."
We also have to mention that the evening ended with a piece you wrote!
"It was a surprise that my colleagues from Radio Romania Musical prepared in my honour. I am touched!"
Also present at the opening ceremony of the "Inheritors of the Musical Romania" Festival, violinist Marcel Frandeș:
"I enjoyed this valuable performance by a young pianist who, in my opinion, has a great future ahead of him. He has a unique sound and great versatility!"
and the music critic Dumitru Avakian:
"It's an absolutely wonderful initiative! Florian Mitrea is an absolutely sensational talent, and what I liked most is his great musical-poetic vision of great comprehension and the originality with which he creates and performs his interpretations".
The Piano Festival "Inheritors of Musical Romania" continues today, 17th of October 2018, from 7 p.m, with Adela Liculescu's recital. Further details will appear in tomorrow's article.
Reported by Ana Diaconu
Translated by Proca Florinn, Mttlc, 2nd year