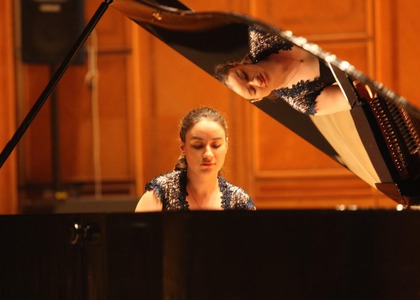 The Heirs of Romania's Music – Adela Liculescu's piano recital
Monday, 29 October 2018 , ora 9.48

The pianist convinced everyone of her resilience, amazing concentration and impeccable technique. She performed, without a break, a marathon-program, that started with two short classical compositions and culminated in monumental pieces such as Franz Liszt's Sonata in E minor and three movements from Igor Stravinsky's ballet, Petrushka.
Among Adela Liculescu's audience were the composer Sabina Ulubeanu:
"Adela's progress is remarkable. I believe it was in 2014 that I first saw her perform, at the Enescu contest. The experience she has gained is manifest in how she interprets each composition and the unique musical universe she has created for herself over the years. Adela is surprisingly mature for her age but I'm sure that in the future we'll be seeing more versions of her - a bit more playful, a bit more diverse - but all in good time. I think it is great that she came to the festival with this recital and we are very happy to have her here."
...and the pianist Vlad Dimulescu:
"I've known Adela since she was a child, since she had been a young pianist in the Carl Filtsch contest and other musical competitions, and later when she had piano concerts across Romania. Her evolution is exceptional! She plays with even greater passion and she grows more mature every day."
At only 25, the Vienna based pianist has already won many international contests. In 2015 she won first prize at the Bosendorfer contest in Vienna, and has recently announced that she officially received the title of Bosendorfer
Artist. At Sala Radio, Adela Liculescu played on a Bosendorfer piano, specially brought to Bucharest for her.
"I felt amazing! The hall's acoustics are incredible; the sound is very clear and transparent. I really felt that I could express myself musically however I wanted. Of course, the piano that they brought helped me a lot. It was a special occasion and I believe the audience really appreciated tonight's concert. It was an honour for me to play for them."
This was Adela Liculescu's statement when interviewed after her first recital on the Sala Radio stage. Tomorrow we will come back with more details from Mara Dobrescu's recital that starts today, 18th of October at 7 p.m., which is also today's last performance of the Heirs of Romania's Music piano festival.
Written by Ana Diaconu
Translated by Ivan Alexandra Simon, MTTLC, an I