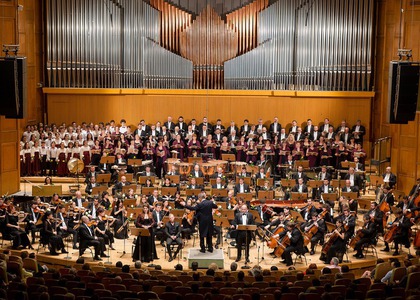 Extraordinary concert Radio Romania – 90 years, performed by the National Radio Orchestra
Tuesday, 13 November 2018 , ora 9.20

For the opening of the programme, the National Radio Orchestra and conductor Cristian Mandeal chose a Romanian work, coloured by surprising percussion solos - Etos I, written by Cluj-born composer Adrian Pop:
"For me it was a great joy and a sort of rerun after 30 years. This work debuted in Bucharest by the same Radio Orchestra. I have a beautiful memory and am particularly grateful to the orchestra. They don't know this because now there are completely different members in the orchestra, but for me it was like meeting the same work with the same orchestra all over again. I'm so happy! It was maestro Mandeal's idea and I don't know if he thought about the renewed meeting because I don't think he knew about this event from my early career."
Another artist who honoured us with his presence at this festive event was violinist Liviu Prunaru, whom we could hear perform the solo parts of famous 19th century works:
"As usual, for me it's a great pleasure to see friends and colleagues again and bring quite challenging things to the table each time. I went off the beaten path of the concert and proposed some works for violin and orchestra that are well known in the musical world, but not played as often in this format - violin and orchestra. And, again, it was a challenge for the orchestra, for the conductor and for me too."
The album Radio Romania 90, published by Casa Radio, was launched during intermission. The event was presented by Liliana Staicu, the director of the Radio Musical Ensembles.
In the second part of the programme, the audience could enjoy the spectacular sonorities of the cantata Carmina Burana by Carl Orff, led by conductor Cristian Mandeal with the same dedication and enthusiasm to which he has accustomed us:
"Of course I was honoured and happy to do it. I have a long-standing relationship with this orchestra and it gives me great pleasure to work with them whenever I have the opportunity. So this anniversary is a special honour."
How did you come up with the programme?
"It was designed for this event in a crescendo, I would say, starting with a contemporary composition of great, great quality, which actually reflects the Romanian spirit in its essence… Then, going through a crescendo of splendid beauty performed by Liviu Prunaru and ending with Carmina Burana - this beloved oratorio that is so popular with the audience and in which all the musical forces of the Radio could participate, including the Children's Choir."
Let's end with a wish for Radio Romania on its 90th anniversary.
"I would like to be able to listen to it for another 90 years!"
Reported by Ana Diaconu
Translated by George Arion, MTTLC 2, Universitatea București