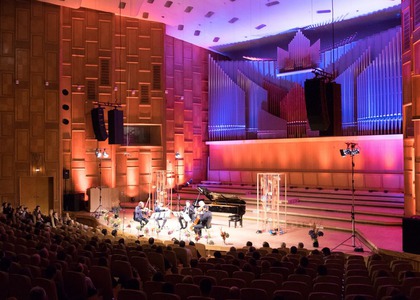 Something borrowed, something blue at Sala Radio
Wednesday, 14 November 2018 , ora 12.49

The concert that took place on 6th of November was a smashing success, thanks to the highly skilled performers and the choices of repertoire. One of the most renowned concert series in Romania's music scene has to be the SoNoRo Festival. The fact that a chamber music festival dominates this scene proves how important the festival truly is, as the SoNoRo concerts have become - since its very first edition - essential to the Romanian classical scene. The best example in this regard is the concert that took place on 6th of November, namely Something borrowed, something blue.
The concert's opening piece was Johannes Brahms's Piano Quartet No. 3 in C minor, interpreted by pianist Diana Ketler and violinist Marc Bouchkov, who managed to deliver a heartfelt performance laden with dynamic exacerbation which is the perfect approach to such a Brahmsian chamber opus. A praiseworthy aspect of this interpretation is the balance between musicality and accented nuances. From a dynamic point of view, the second piece and the first one are antithetical.
The contrast between Raph Vaughan-Willliams's "The Lark Ascending" and the first piece, as well as the skilful interpretation of violinist Anna-Lisa Bezrodny and pianist Diana Ketler left the audience in awe. The violinist's mastery of tone in the thematic fragments is what guaranteed the piece's success. The climax of the concert was Manuel de Fala's "Siete Canciones Popolares" arranged and performed by violinist Kyril Zlotnikov and guitarist Alberto Mesirca . This success was not only because of the repertoire choice, namely de Fala's piece, but also thanks to Zlotnikov's and Mesirca's impressive interpretation. The concert ended in Felix Mendelssohn's Piano Trio No. 2 in C minor, which was performed by violinists Alina Pogoskina and Jan-Erik Gustaffson, and pianist Diana Ketler, all of whom added the romantic element and the aesthetic ambience required by such a piece; a piece that the audience truly enjoyed.
"I'm so happy that the SoNoRo festival exists. In my opinion, all of them had absolutely fantastic performances! I think everything here is extraordinary and I wish more people would come to this festival."
"I really enjoyed it. Every year I'm happy to find myself here, at the festival, and I'm thrilled to hear new, contemporary, creative ideas performed so earnestly. It was such a delight. A great balance within a solemn repertoire, especially considering the two pillars, Brahms' Quartet and Mendelssohn's Trio, which are both a challenge for a musician. Also the juxtaposition of such descriptive and cheerful pieces, that were performed so beautifully, was an inspired choice. I'm loving it." said Diana Ionescu when interviewed about the concert "Something borrowed, something blue".
The SoNoRo festival ends Monday on 12th of November with the screening of Bruno Monsaingeon's movie, The Indomitable Bow, at the French Cultural Institute.
Written by Petre Fugaciu
Translated by Ivan Alexandra Simona, MTTLC, 1st year